Search Results for Tag: Joy news
Market roundup: October 2017

Europe
Covering the 2017 German Federal Election from September 20 to 26, DW worked with 36 partners from around the world in English, Arabic and Spanish. Televising a total of 116 segments in cooperation with broadcasting partners, DW was able to provide comprehensive reporting on the German election to audiences around the world.
Partners included NewsX, one of India's largest news broadcasters, Joy News in Ghana, the Australian public broadcaster ABC and the pan-Latin American broadcaster based in Colombia, NTN24.
Asia
DW is available on Thailand's largest mobile provider AIS (Advanced Info Service) on the IPTV service AIS-HomePlus. The new partnership brings DW's English-language programming to a combined 1.7 million subscribers. DW also has a new partner in Lahore, Pakistan. The cable station Max-1 is broadcasting DW's English-language TV to 18,000 households in Lahore's business district and education centers.
DW's English-language channel is now available on the popular South Korean OTT box Nosegay. Vietnamese partner HTS-TMS extended its partnership with DW and acquired DW in HD.
Meet Ghana's heroes

The media does its job when people who would otherwise go unnoticed and important things that would otherwise go unseen are cast into the light. Communities all over the world are created by the sum of the good work of many individuals. As an international broadcaster, DW has taken this to heart and created the local heroes campaign to provide people around the world the chance to express themselves and share the special things they do for their communities.
The local heroes campaign recently reached new heights in Ghana, where people from across the capital Accra were literally given a stage to express themselves and celebrate their communities. Created in cooperation with local broadcaster Joy News, the Heromobile took to the streets of Accra in October, visiting the neighborhoods Madina, Nima, Teshie and Labadi. At each stop during the afternoon the Heromobile toured the neighborhood asked people to share what made them stand out or what they were doing to make a difference. A stage was built and a celebration complete with artists and musicians created a sense of empowerment among the community.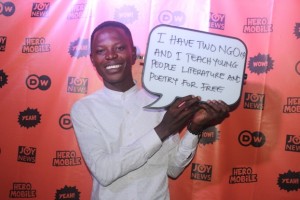 The level of engagement people in Accra have is truly inspiring and the Heromobile campaign helped bring it out. More than 10,000 people turned out to participate and celebrate. The people who came out and shared their lives are as diverse and fascinating as their work. In Madina, Shadrach Victor Kwetso runs NGO's and teaches young children literature and poetry free of cost. Rita Tacki Manieson teaches people how to weave and work with beads. In Nima, Adiza Alhassan sells food at a very low price and provides free food for mentally and physically disabled people in her community. Albert Stone Donkor has been coaching basketball in the community for over 25 years. In Teshie, Paulina Asorkor Amarh runs a center for widows that takes care of them and provides clothes and food. Nii Mensah Sowah runs a free school for less-privileged youth. In Labadi, Seth Mensah Quarshie Yemo is an actor who gives free acting lessons to local youth. Jospeh Adeti is an athlete that organizes soccer matches and coaches young people.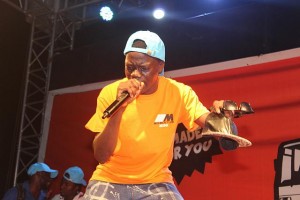 These are only a handful of the dozens of local heroes who joined the Heromobile at each stop. In the days following the events more people checked in on social media from around Ghana to ask if the Heromobile would be coming to their town and express regret that the campaign had ended before they could join. While the Heromobile is no longer running, the local heroes of Accra, and everywhere else, will always be taking action and improving their communities. Wherever DW goes next, they will be sure to have their chance to speak out.
DW's Local Heroes continue to shine
DW's new English news channel was created for people all over the world who are looking for news and information that supports and inspires them to shape their communities. During the past few months, DW has searched for these local heroes, and at every point we have found and celebrated people who are doing remarkable things and making a difference.
Most recently in Ghana, DW and local broadcaster Joy News organized a "Heromobile", which is travelling around the capital city Accra with local musicians and went looking for people who stand out, make a difference or work hard for change. DW and Joy News collected and shared their stories taking pictures of the participants and created an atmosphere of celebration.
Earlier this summer in Kenya, DW organized The Local Heroes Journalism Competition, which encouraged young journalists to create a journalism project profiling local heroes making a difference in their communities. The competition drew a lot of interest and promoted quality journalism while giving Kenyan local heroes the recognition they deserve.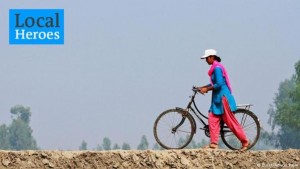 In Pakistan last month, speaking engagements in cooperation with local broadcasting partners honored local heroes and let them tell their story. Highlights from Pakistan included Samar Minallah Khan, documentary filmmaker and women's rights activist who helped make the practice of forced marriage in Pakistan illegal. In Bangladesh, DW has honored Infoladies, who bike hundreds of miles to bring advice and medicine to thousands in remote, impoverished villages. There are currently around 70 Infoladies working mainly with women and girls as well as with disabled and elderly people, connecting them to the rest of the community.
In an online call to action over the summer,  DW asked people from anywhere in the world to submit the story of their local hero. Facebook posts on both DW News and 12 websites from DW's various Asia and Africa departments combined to help draw attention to the new channel and encouraged people to share interesting stories of their local heroes with DW. The campaign was received with a lot of enthusiasm by online users. The various local hero stories complied by the participating DW editorial departments generated over 1 million reactions. The language groups that showed the most interaction with online posts were Dari, English and Bengali.
DW has shown that local heroes come from everywhere and anyone who has a vision and passion can make a difference in their communities – and there are always more stories to tell.