Search Results for Tag: Mxit
Designing mobile news solutions for South Africa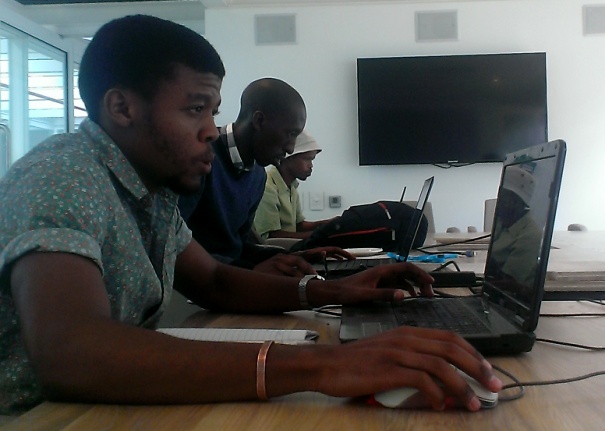 For programming wizards and creative techies, a hackathon is where their talent can really come alive. The intense air of competition fosters collaboration and promotes innovative solutions to complex problems.
DW hosted its first African hackathon recently in Cape Town, South Africa. Three teams gathered at the innovation center Workshop 17 for a 24-hour race against time to find a solution for providing news in places with poor Internet connectivity. The problem was how to compactly package news reports for consumption on low-data devices in areas with weak networks so that they remain appealing and relevant for South African users.
The three teams were composed of established South African web designers and developers along with web design students and budding experts. The mix of participants from different parts of Cape Town allowed for unique insight into how South Africans use digital news.
The winning team developed a tool that allows user-generated content (UGC) to be easily produced and quickly disseminated. UGC is quickly becoming an important resource for news broadcasters and providing capability to those with weak networks is a valuable service.
With the hackathon, DW could foster innovation in important technologies for African users while drawing attention to its special brand of international news. The event was organized with the assistance of the South African low-data social network Mxit along with the online radio aggregator iono.fm. Logistical support was also provided by Silicon Cape and Code4Southafrica.
Partnering for the greater good

DW's Crossroads Generation has found another great partner with Mxit. The South African social media app goes beyond providing easy access to online social networks by actively aiming to improve lives through information and education. Aside from technology, they accomplish this through social activism.
Mxit Reach is an NGO run by the company, which seeks to improve lives by providing innovative mobile solutions. An estimated 1 million users access educational, counseling and health services through Mxit Reach. And with Crossroads Generation, DW has created a radio soap that tackles tough social issues with the help of a love story. It covers issues that are important for African youth like drug use, pregnancy and domestic violence – and does this in a fun and entertaining way to keep listeners coming back for more. Mxit can help the program do its job even better.
One of the Mxit app's core strengths is "tailoring features for original localized content targeted at emerging market youth". Crossroads Generation, the educational radio soap, is targeted to this market – African youth who will greatly benefit from having the program on such an accessible platform. Mixt enables users to gather around the content to react, discuss and develop their own ideas and this will surely expand Crossroads Generation's effectiveness.
DW's educational content for Africa is produced to enlighten and educate young Africans and is an ideal complement to the Mxit mission. With DW doing a lot of other work in media education and social awareness, it would be a positive development to see this partnership develop in the future.
Find out more about DW's partnership with Mxit here.