Search Results for Tag: Shabab Talk
How does DW continue to resonate with Arab audiences?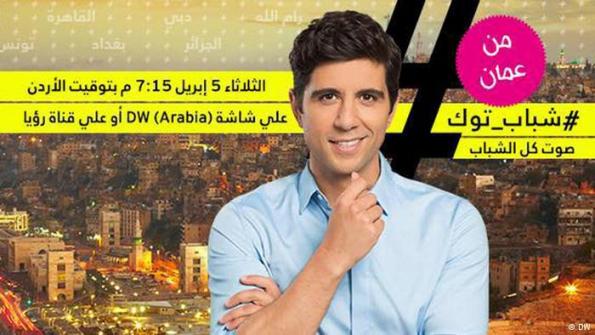 For the second year in a row, productions from DW (Arabia) have been awarded the Al Haitham Media Award given out by the Arab Media Council in Amman, Jordan. The satirical Al Basheer show won a trophy in the "free word" category. The talk show for Arabic youth, Shababtalk, won a gold award for the best Arabic talk show. Shababtalk also won the 2015 Arab Festival for Radio and Television Award from the Arab States Broadcasting Union (ASBU) for best talk show.
In the Arab world, DW's continued success is based on programming that both resonates with audiences and represents values of media freedom. Shows like Shababtalk and the Al Basheer show are a rare presence in the media landscape in Arabic countries. Because they break taboos and venture where other programs won't, viewers from across the Arab world turn to these programs for an honest perspective on important social issues.
DW (Arabia) is also a trusted and consistent source of news in Arabic that complements the variety of social issues covered in talk shows and magazines. Both pan-Arabic and national broadcasters can miss out on bringing audiences a complete perspective on issues like gender equality, democratic values and government corruption.
DW's fills a niche by sticking to the traditional values of public service broadcasting that audiences in western countries may take for granted, but which are lacking in other parts of the world. These include independent reporting, balanced presentation and maintaining a critical view of those in power. This is why DW in the Arab world will continue to see success and deliver audiences something they can't find elsewhere.
DW journalists demonstrate the power of storytelling

What drives some people to push themselves to the edge and keep coming back to the world's most rugged and treacherous mountains? DW sports journalist Stefan Nestler tells these stories and makes it clear that mountaineering is more than a sport, it's a lifestyle.
Nestler's mountaineering blog Adventure Sports takes a special look at people who live for reaching the next peak. The blog also places a special emphasis on life in the Himalayas – both for locals and the cadres of mountain adventurers whom descend on the region each year.
The blog recently won a Sport Media Pearl Award in the Journalistic Weblog category. The contest, organized by the International Sports Press Association (AIPS), is considered one of the most important international sports media awards and recognizes outstanding storytellers in sports.
Nestler dedicated the award to "climbers from all over the world who live their passion and to the mountain people who must work so hard." But Nestler isn't the only DW journalist being honored with awards.
Jaafar Abdul Karim, the host of DW's Shabab Talk and other productions covering the Arab world ranked third place as Medium Magazine's "journalist of the year" in the category nationwide reporting. Medium said that that Karim was a "perfect mediator" between Germany and the Arab world. Karim uses a unique approach to storytelling that helps contextualize and clarify issues facing young Arabs. He also produces a video blog that keeps up with the latest issues and controversies.
Another distinction was presented by Kosovo's public broadcaster, RTK, which honored DW's Bahri Cani with a "Journalist of the Year" award. The journalist with DW's Albanian department was recognized for live news reports in Albanian and Serbian, which provide a valuable service to speaker's of both languages in Kosovo. Cani's work also distinguishes DW as an objective and reliable source of information in the region.
Live reports from DW have been included in RTK's morning broadcasts for more than three years. RTK also carries the Albanian edition of DW's, Focus on Europe, along with Euromaxx, Drive it! and Tomorrow Today.
Two DW Portuguese for Africa correspondents were also recognized for their outstanding journalistic achievements and commitment to human rights. Braima Daramehat won a "Journalism and Human Rights" prize from the Observatório dos Direitos Humanos based in Guinea-Bissau. His work as director of the local youth broadcaster Rádio Jovem earned him the distinction. The station's programming emphasizes human rights, freedom and democracy. DW's radio dramas Learning by Ear and Crime Fighters are broadcast in Portuguese by Rádio Jovem.
Luciano Nagel, a DW correspondent in south Brazil won a Prêmio CNT de Jornalismo for his report on the working conditions for Brazilian truck drivers. Nagel has also produced stories for DW covering African refugees in Brazil.
Tags
Adventure Sports
,
AIPS
,
Brazil
,
Crime Fighters
,
DW Portuguese for Africa
,
DW Shqip
,
Focus on Europe
,
Learning by Ear
,
Medium Magazine
,
RTK
,
Shabab Talk
,
Sport Media Pearl Award