Search Results for Tag: UNESCO
Market roundup: July 2015
Asia
DW's new global English news channel is now available in Afghanistan via satellite after a three-year contract was closed with the satellite provider Afghanistan Broadcasting System. The satellite Afghansat 1 is operated by Eutelsat and will carry 60 international and national channels to a potential 1,5 million subscribers.
DW has a new broadcasting partner in Indonesia. The nationwide television provider Sky LBS will now carry the full program from DW's new English news channel via cable, satellite and IPTV. Sky LBS can reach a potential 35.8 million households and has 123 national and international channels in its portfolio.
DW Akademie has opened a new office in Yangon, Myanmar in partnership with the German Federal Ministry for Economic Cooperation and Development (BMZ).  The primary activities of DW Akademie in Myanmar are supporting the transformation of the state broadcaster MRTV and the construction and development of the first private journalism school in Myanmar, Myanmar Journalism Institute. DW Akademie has been active in Myanmar since 2009.
Europe
DW  has partnered with the German UNESCO commission and the German Federal Foreign Office for a conference being held this month in Bonn. The highlight of the conference will choosing a new UNESCO World Heritage Site. For the occasion,  DW produced a multimedia website Wege zum Welterbe that traces a virtual path across all World Heritage Sites in Germany.

Africa
DW and Nigerian broadcaster Channels Television have signed an extensive cooperation agreement.
The new partnership will feature live broadcasts with a DW market reporter from the Frankfurt Stock Exchange and four weekly interviews with DW correspondents covering current German and European issues in society and politics. Channels Television has the widest broadcasting range in Nigeria.
Focusing on education

Education for all – that is UNESCO's central aim when it comes to the world's school systems. But where do we stand today? DW has developed a new multimedia project that examines innovative education initiatives and the areas where the international community still has much work to do. With "Education for all – Five bloggers, five countries, one dialogue", young people discuss the state of education in their home countries as well as their own experiences in the school system. DW is relying on five bloggers from Iraq, Germany, Argentina, Russia and Kenya to provide discussion points for the online community. Interested? Join the discussion today.
DW teams up with UNESCO in South Africa
DW Akademie, Deutsche Welle's international center for media development, media consulting and journalism training, is organizing in cooperation with UNESCO, a "Train-the-Trainer Course" for 12 young lecturers from eight African journalism education institutions. The course is taking place now in East London, South Africa and will run until January 27, and is being hosted by Walter Sisulu University.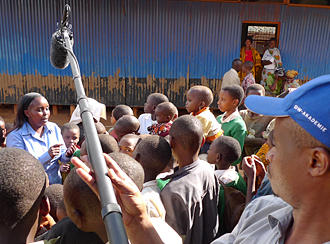 Journalism Educators from Namibia, Mozambique, South Africa and Zimbabwe will share their experiences of teaching journalism with a focus on community media. The aim is for training methods to become more interactive, participative and practice-oriented, thus allowing students to apply newly acquired skills and knowledge directly. The group will also concentrate on community media, which can play an important role in development in Africa.
This training is the first of three courses due to take place in Africa within the framework of a UNESCO/DW Akademie joint initiative to strengthen 20 selected African universities´ capacities to offer high quality journalism education programs for aspiring and working journalists. DW Akademie has put a focus on Africa for 2012.
DW Akademie has been conducting a variety of media development projects to reinforce free and independent media, particularly in developing and transition countries since 1965. Their team of experts advise broadcasting executives, train young, up-and-coming journalists and provide professional coaching to media engineers. Every year around 3,000 individuals take part in DW Akadmie's training and workshop programs.