Search Results for Tag: World in Progress
DW shows the world why 'climate action needs media freedom'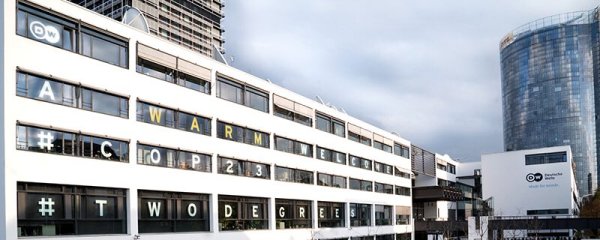 At the COP23 in Bonn, DW raised awareness of the important role of media in informing the public about the complicated issues surrounding climate change. During the UN climate conference, DW Akademie held multiple workshops organized around the motto "climate action needs media freedom."
During the conference dozens of journalists were invited to Bonn to connect with climate activists and other journalists from around the world to share ideas and expertise. Participants learned about how to report on climate change issues and increase coverage in affected regions.
DW Akademie emphasized how the media provides an essential platform for dialogue in finding sustainable solutions to social problems caused by climate change.
Ten journalists from pacific islands were trained by DW Akademie in advance of COP 23 to report on the conference for media outlets at home. Another multimedia training brought 13 journalists from the Fiji-Islands, Papa-New Guinea, Samoa and other pacific states to Bonn for an exchange of expertise on climate change reporting. Other workshops brought journalists from Somaliland, Myanmar Sudan, Namibia and Jordan.
DW also launched a multimedia project called Kids4climate, which is intended to raise awareness of climate issues among children. It works by providing examples of activities that kids have initiated such as planting trees or organizing a "ride your bike to school" day. The videos also feature activities that kids and families can do together.
And on the sidelines of COP23, DW brought together the mayors of Pretoria in South Africa and Pittsburgh, Pennsylvania in the USA for a radio discussion broadcast on DW's World in Progress. They spoke about similarities between their two cities in looking toward the future and shed light on how climate change is a problem that unites cities around the world.
The discussion provided an example of how the media can provide a platform for public officials to openly exchange ideas on how to make their communities more sustainable.