Search Results for Tag: Zambia
The added value from DW Akademie workshops makes projects and graduates stand out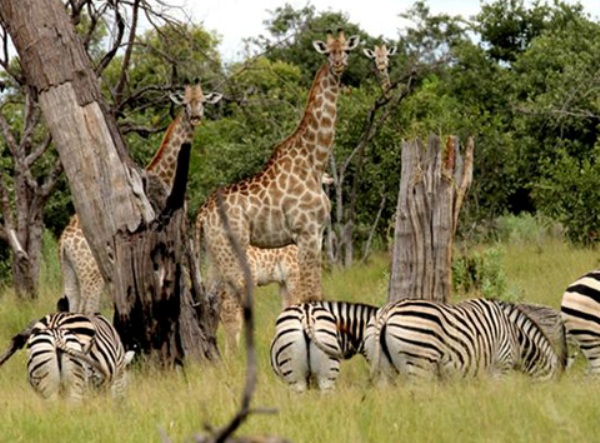 From the expanse of the African wilderness to the streets of Brazil, the training programs from DW Akademie provide journalists with the tools they need to produce stories that make a difference and have a positive effect on their communities.
A new series of workshops is set to begin this summer in cooperation with the Kavango-Zambesi Transfrontier Conservation Area (KAZA), located in southern Africa. This conservation area is the largest in the world and stretches across five countries. Journalists from Angola, Botswana, Namibia, Zambia and Zimbabwe have been invited to participate in the 16-month project.
The workshop will be focused on helping to increase awareness through the media of the need to protect the region. Journalists will be trained primarily in bio-diversity and how to better promote protection of species through their journalistic craft. Other issues that will be covered are ecological research, land development, tourism, resource conservation and conflict-sensitive reporting.
In a testament to the effectiveness of DW's traininig programs, four radio journalists who took part in a DW workshop were recently awarded a Microfone de Prata (Silver Microphone), one of Brazil's most prestigious journalism prizes. Journalists Gecylene Sales and Eanes Silva, who took part in a 2013 DW Akademie workshop on investigative reporting in Boa Vista, produced the award-winning report on forced prostitution in Amazonian countries. The journalistic production required them to use skills they learned with DW Akademie like doing effective research, conducting sensitive interviews and protecting sources.
Also winning a Silver Microphone were workshop participants Aroldo Bruce and Alcinio Limo, who produced a report on the struggle of indigenous Amazonian tribes with preserving their cultural identities. The competition for the prize was intense and the fact that two groups of workshop participants were chosen separately,  is something the DW Akademie can truly be proud of.
The proven success of DW Akademie's training in Latin America and the new partnership with KAZA are just a few ways with which DW is working to improve the world through better journalism.
Tags
Africa
,
Angola
,
Botswana
,
Brazil
,
conservation
,
DW-AKADEMIE
,
journalism
,
media training
,
Namibia
,
reporting
,
Zambia
,
Zimbabwe
Market roundup: November 2013

North America
The website of Radio Canada International's radio program, Eye on the Arctic, is now a DW partner. Since October, content from DW's Ice Blog, created by DW editor Irene Quaile, has been featured on the Canadian broadcaster's website blog. The radio program features issues affecting the Arctic such as climate change. The content is normally limited to contributors from Arctic states– however the quality of the information from DW's Ice Blog convinced Eye on the Arctic to widen the circle of those allowed to contribute.
Europe
After the discontinuation of its Russian radio service, DW's presence in Georgia was interrupted. Now after realigning its multimedia content, DW has managed to revive its presence in the country. The first step was the addition of the leading Georgian online news service, News.ge, as a premium partner.  News.ge launched English and Russian language news sites on October 1 which both exclusively feature DW news content. More projects in Georgia are currently being prepared.
Asia
DW has added CTH, one of the largest cable TV providers in Thailand, as a partner. The country's second largest cable provider brings national and international programming to over 2.5 million households. DW's flagship English channel can now be received 24 hours every day via the new partner's digital cable network.
DW's English channel is also now available in Vietnam via DVB-T. The provider, Audio Visual Global (AVG), has also integrated DW into its satellite packet with 350,000 subscribers.
DW has a new partner in Pakistan.  Radio Chiltan in Quetta will now be broadcasting DW programming in English and Urdu. The station also broadcasts in regional languages.
Africa
DW has added one of the largest private radio broadcasters in Eastern Zambia as a premium partner. BreezeFM has a range reaching from Eastern Zambia to Western Malawi. Since the beginning of October, the new partner has been taking on content from DW's worldwide English language radio programming and also broadcasts the popular program, Africa link from DW's English for Africa service everyday via VHF.
DW's World Stories has a new partner in Mozambique. The private broadcaster, TIM (Televisão Independente de Moçambique) has been airing reports from World Stories since September and will be contributing their own stories as well.
Online
As a new part of the longtime cooperation between Sony and DW in the area of Smart TV, Sony will now be including DW content on its mobile devices. The news App Socialife comes preinstalled on cell-phones, tablets and notebooks and news reports from DW in 12 languages will be integrated into the App and prominently displayed.
On October 15, Albanian was added to DW's Media Center. That increases the number of available languages to 26.
The multimedia project, Wagner 200 – Bayreuth Backstage , has been available online in English, Spanish and Russian since October 15.
DW's online cooperation with @ Verdade Mozambique is proving to be a quick success. In just a month, the number of clicks on DW's Portuguese for Africa website has clearly increased