Search Results for Tag: Cricket

Sonia Shehzadi lives in a conservative village in the province of Punjab in Pakistan where opportunities for girls and young women to access education are limited because there is poor public transportation and they cannot ride a motor bike freely. To help her family do the daily tasks and to complete her education, Shezadi dresses like a man.

read more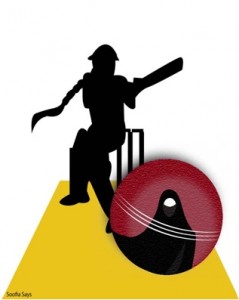 If the women of Pakistan do anything that has any semblance of normalcy, it is considered a miracle by feminists and a profanity by fundamentalists. Each step is either towards progress or religious sacrilege. The same conditioning came into play when Pakistan's Women's cricket team became an established entity in the 1990s.

read more
The  Twenty20 cricket world cup always makes it to the front pages. It is followed almost religiously by its fan base. Men and women watch the games with the intense fervour. But few know that the woman's Twenty20 tournament takes place around the same time every year. The reason is that we see, hear or read very little about most of the women's sports activities in media.

read more