Khmer coverage of Japan's tsunami
By Raksmey Meas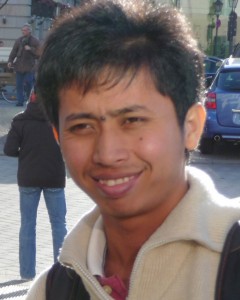 Raksmey Meas, assistant lecturer at the Department of Media and Communication at the Royal University of Phnom Penh, reports that Japan's catastrophe involving the recent earthquake and subsequent tsunami has yet again taken center stage in the world media's attention.
Particularly in Cambodia, news related to Japan and its disaster racked up on front pages for more than a week following the initial shock on March 11th.
Regarding the focus of Cambodian media on this tragedy, news angles seem to be anything on the updates of the situation – death toll, possible nuclear explosion and rescue efforts, etc.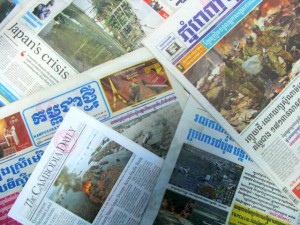 Cambodian issues still more pressing
Despite appearing regularly on news pages and programs, it is apparent that Cambodian media do not treat this tragedy as anything more than one nation's disaster. This may be due to the on-going affair that Cambodia is having with Thailand over the border dispute, says Raksmey.
Social media for world events

"However, there are those who take the stories to heart. These often are younger people with more active participation in any kind of national and world event. They use new media and its applications to retrieve news and spread messages on Japan's events.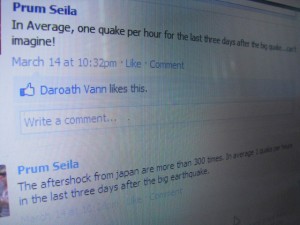 Facebook is yet again the tool of choice for these people to express their condolences and call for support for Japan. There are also those who use Twitter to get updates of the event from major newspaper and media outlets."
"With news related to Japan appearing every day," says Raksmey, "Cambodian media have been showing their interest and effort to report more on world events despite their apparent challenges in both skills and resources."
Photo credits: Raksmey Meas