Getting everyone up to speed in a converged Himalayan newsroom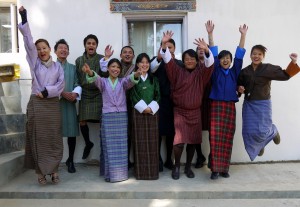 Even high in the Himalayas, reporters these days are being asked to do more.
As part of a modernization drive, Bhutan Broadcasting Service (BBS) has combined their radio and television newsrooms. In the future, reporters will be required to provide news reports in both media. It's hoped that the convergence will allow the state-funded station to cut costs and do more with limited resources.
It was against this background that two DW-AKADEMIE trainers went to Bhutan's high-altitude capital Thimphu to conduct a workshop with an enthusiastic group of 12 young BBS journalists. While several already had some radio production experience, many had previously only worked on the TV side of things.
Together, the group started with a review of the basics, such as news judgment and news writing for radio, before moving on to the interview and how to ask that all-important first question that will grab your listeners and keep them from turning the dial.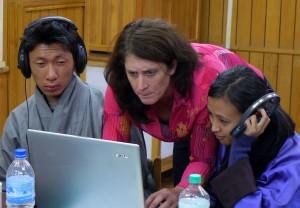 The focus was on the practical, and with every topic covered, workshop participants completed exercises that, while not exactly the real thing, got fairly close. Besides writing news, they gathered vox pops from people around town and grabbed interviews with some fairly prominent Bhutanese folk, including the coach of the national football (soccer) team and one of the country's most famous actors. The group analyzed the interviews together and participants offered their colleagues their takes on the strong and weak points of each one.
Then the workshop tackled the radio feature and for many of the journalists, it was the first time they had learned about how to use natural/ambient sound in a radio reportage to evoke a sense of place for listeners and paint mental pictures that can turn a recitation of facts and opinions into a lively, almost "visual" piece, despite the absence of a screen.
For Kuenzang Choden, a producer in the English department at BBS, natural sound was something entirely new. She was excited about the possibilities, as she explains in this short clip.
Toward the end of the two-week workshop, the participants were divided into two groups and each was tasked with creating their own radio magazine program. Both ended up being thematic: one group chose to make a youth program; the other a soccer/football show.
The journalists used their new skills in presentation, interviewing and report production to put together two lively magazines. Reporters for the soccer show, called Druk Kangtsey, went to the training pitch to catch the national team in preparation for a tournament in India.
Convergence, not phase-out
As BBS continues its convergence drive, management was quick to point out that the merger is not a takeover, with radio being the loser. While television recently got brand-new studios and continues to grow in popularity (TV broadcasting was only allowed in the kingdom in 1999), radio is still the dominant medium for many people in this mountainous country.
Many Bhutanese live in remote regions without electricity where newspapers arrive late, if they arrive at all. A battery-powered radio is often the only link to the outside world.
Kesang, who heads the BBS radio department, is playing a key role in the convergence process, but in this video clip he insists radio will not go the way of the dodo.
Journalists' special role
Besides the late introduction of television in this country of around 708,000 people, democracy was also a late arrival. Until a few years ago, the country was governed by an absolute monarchy.
In 2005, King Jigme Singye Wangchuck, adored by his people and seen as a very benevolent monarch, shocked the nation by announcing major democratic reforms. He also proclaimed he would pass the crown to his son, Jigme Khesar Namgyel Wangchuck, in order to give him time as head of state in the run-up to the transition to democracy.
Bhutan's elections for its first parliament and the ratification of its first constitution were completed in 2008.
This major change has put a special responsibility on journalists' shoulders, according to Thinley Dorji, the managing director of BBS since summer 2011. In the following video he talks about that as well as a government that might not be used to dealing with criticism from the media. He also addresses the country's changing media landscape and what that means for the broadcaster.
By Kyle James