Reporting about people with disabilities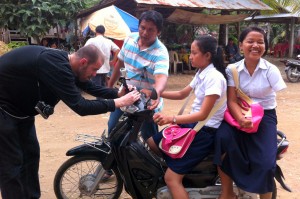 In many societies, people with disabilities are pushed aside – be they mentally challenged or physically impaired. Some of them have to beg for money in the streets, others stay out of sight or are even locked away.
In Cambodia, the country's Disability Action Council (DAC) estimates that nearly five percent of the population of 14.9 million people is disabled. According to the UN Economic and Social Commission for Asia and the Pacific (UNESCAP), Cambodia's high disability rates can be attributed to three main factors:
• "past war casualties
• the ongoing risk of mines,
• the lack of prevention and primary care for various disabling diseases."
The Cambodian media don't often deal with the lives of the disabled. One reason may be shyness or ignorance on the part of the journalists about the life of people with disabilities. But two recent television training workshops have helped improve the way journalists portray people with disabilities in the media. They were jointly organized by DW Akademie, Germany's GIZ and the Women's Media Centre of Cambodia.
Journalists learn to see abilities instead of disabilities
In November and December of last year, 14 TV journalists and camera operators working for the Women's Media Centre in Phnom Penh produced documentaries that show how people with disabilities live in Cambodia.
The journalists put together a profile of a blind man who works as a massage therapist at a Seeing Hands center. Another television feature documents the life of a young woman who only has one arm, while a third film puts the spotlight on the organization Epic Arts in the southern Cambodian town of Kampot.
Epic Arts raises awareness about the rights of people with disabilities in Kampot province.  Its central message is "see ability, not disability." The organization provides physical rehabilitation, deaf education and skills training. In addition, it runs a café, where handicrafts are sold that were made by people with disabilities.
Coming face to face with people with disabilities was an eye-opening experience for many of the journalists who took part in the DW Akademie training. During the four-week workshop, this human experience may have been just as beneficial as the professional training in script-writing, camera operation and video editing.