Search Results for Tag: audience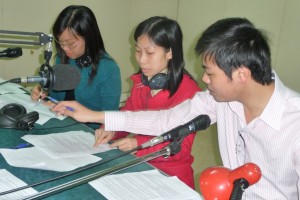 Radio listeners in Northern Vietnam's Quang Ninh Province probably didn't know what hit them earlier this year. Instead of drab propaganda programs, the radio was playing popular music interspersed with traffic information and listeners' calls. And this new show was presented by a friendly host who was talking to the listeners at eye level. So far, radio hosts had sounded more like talking machines who thought it necessary to instruct the audience what to think.
The program the listeners of QTV radio in Quang Ninh Province were hearing was "Rush Hour", a one-hour morning show that the station had just started with the help of DW-AKADEMIE, Friedrich-Ebert Foundation and Vietnam's Academy of Journalism and Communication.

read more