Search Results for Tag: Berlin International Film Festival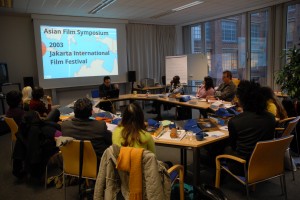 The last several weeks have been action-packed for the participants of the film festival and event management workshop taking place in Berlin. For the 9th year in a row, DW Akademie has conducted this special training event in cooperation with the annual Berlin International Film Festival, also known as the Berlinale. The workshop is for managers and organizers of film festivals in Asia, Africa and Latin America.
Every year it's a red-carpet intensive to discuss festival planning and marketing strategies, boost the genre of local film-making in developing regions and network in the name of cinematic impact. "The workshop is a great gathering of 12 different cultures from three different continents," says project manager Pamela Schobess. "It's all about networking and we've had an amazing start, making contacts between festivals all over the world."

read more
Once again the Berlin International Film Festival, also known as the Berlinale, has become the focus of filmmakers and movie buffs from around the world. Every year, DW-AKADEMIE conducts a five-week workshop centered around the red-carpet event. Called "Film Festival and Event Management", the workshop spotlights young film festival managers from Asia and Africa.
Two of this year's 12 participants are Luzviminda Casagan from Pasay City, the Philippines, and Arthur Mataruse from Cape Town, South Africa. Casagan works for the Cinemalaya Independent Film Festival, Mataruse for Encounters and the Out in Africa film festivals. We spoke to both of them to find out more about film festivals and filmmaking in their home countries.
How would you describe the importance of films in cinema and television in your home country?

Arthur Mataruse (pictured left): For us, films mainly have the function to strengthen the culture and the common identity in South Africa. Our aim is also to show other cultures and lifestyles.
Luzviminda Casagan: In the Philippines, fewer and fewer people are going to the cinema. One reason is that it is now easier to get films on DVD or from the Internet. Consequently, it's becoming more difficult for filmmakers to distribute and sell their films. Our aim with the Cinemalaya Independent Film Festival is to support young Philippine filmmakers whose films provide new insights and pursue new concepts, especially when that promotes art and culture.

read more