Search Results for Tag: facebook
At this year's Deutsche Welle Global Media Forum, we met up with Danh-Quy Nguyen, a Vietnamese who studied in Germany and now works as the Deputy Managing Editor for ELLE Vietnam. A few years ago, Danh-Quy was one of the first to receive a scholarship for the two-year Master's program "International Media Studies" at DW Akademie.
You graduated from DW's International Media Studies program last year. Now, you've been invited back as a guest and expert for a panel-discussion at the DW Global Media Forum. How does that make you feel?
Firstly, I feel great and honored to be invited by my teachers and colleagues. I think it's an experience that not everyone can have. So I feel very happy. Secondly, I'm also very happy to see my old friends and many colleagues from Deutsche Welle.
What do you miss most about Germany?
What I miss most from Germany is lots of trees, lots of green and the Rhine River.
Can you apply the knowledge that you learned at DW to your work in Vietnam?
Of course! I learned a lot at DW and I use it in my work every day. The most important thing I learned from the DW Master's program is how to communicate with people from different countries and different cultures. This is very important for my daily job. As Managing Editor, I have to communicate with different editors and people from the fashion industry all around the world.

read more
By Raksmey Meas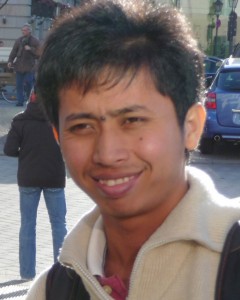 Raksmey Meas, assistant lecturer at the Department of Media and Communication at the Royal University of Phnom Penh, reports that Japan's catastrophe involving the recent earthquake and subsequent tsunami has yet again taken center stage in the world media's attention.
Particularly in Cambodia, news related to Japan and its disaster racked up on front pages for more than a week following the initial shock on March 11th.
Regarding the focus of Cambodian media on this tragedy, news angles seem to be anything on the updates of the situation – death toll, possible nuclear explosion and rescue efforts, etc.

read more