Search Results for Tag: global media forum
At this year's Deutsche Welle Global Media Forum, we met up with Danh-Quy Nguyen, a Vietnamese who studied in Germany and now works as the Deputy Managing Editor for ELLE Vietnam. A few years ago, Danh-Quy was one of the first to receive a scholarship for the two-year Master's program "International Media Studies" at DW Akademie.
You graduated from DW's International Media Studies program last year. Now, you've been invited back as a guest and expert for a panel-discussion at the DW Global Media Forum. How does that make you feel?
Firstly, I feel great and honored to be invited by my teachers and colleagues. I think it's an experience that not everyone can have. So I feel very happy. Secondly, I'm also very happy to see my old friends and many colleagues from Deutsche Welle.
What do you miss most about Germany?
What I miss most from Germany is lots of trees, lots of green and the Rhine River.
Can you apply the knowledge that you learned at DW to your work in Vietnam?
Of course! I learned a lot at DW and I use it in my work every day. The most important thing I learned from the DW Master's program is how to communicate with people from different countries and different cultures. This is very important for my daily job. As Managing Editor, I have to communicate with different editors and people from the fashion industry all around the world.

read more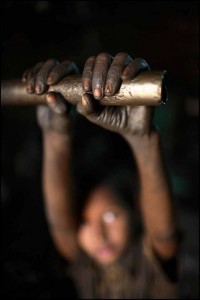 GMB Akash of Bangladesh won first place in the international photo competition called "KLICK! – Your View of Human Rights and Globalization". The name of his winning picture is "Children's Hands". The contest was launched by Deutsche Welle and Amnesty International. The winning photographs were decided by around 1,500 participants at this year's Deutsche Welle Global Media Forum in Bonn, Germany, which ended on Wednesday, 22 June 2011.
Of his winning shot, photojournalist GMB Akash says, "It shows eight year old Munna who works in a rickshaw factory in Dhaka, Bangladesh. The boy earns about 500 taka (7 U.S. dollars) a month, working 10 hours a day. When production often stops due to lack of electricity, he has time to play. It is common in Bangladesh for children of poor parents to work in various hazardous and labor-intensive
First Place Winner: "Children's Hands" by GMB Akash

workplaces to support their families. Seventeen and a half percent of all children aged between 5-15 are engaged in economic activities. The average child worker earns between 400 to 700 taka per month, while an adult worker earns up to 5,000 taka per month." One U.S. dollar equals about 70 taka.

read more
At this year's Deutsche Welle Global Media Forum, which took place from June 20-22 in Bonn, Germany, sustainable development expert Mohan Munasinghe recommended that the media help spread the word to the world's elite that it's in their own interest to limit consumption and allow the poor to grow out of their poverty. In terms of resources, the "more the rich consume, the less there is for the poor," he said. Otherwise the entire global system is at risk of collapse with unforeseen consequences for everyone.
As vice chair of the Intergovernmental Panel on Climate Change, Mohan Munasinghe shared the Nobel Peace Prize with Al Gore in 2007. Currently he is chairman of the Munasinghe Institute for Development (MIND) in Colombo, a professor of sustainable development at the University of Manchester in the U.K., a distinguished guest professor at Peking University and honorary senior adviser to the government of Sri Lanka. He is widely recognized as having introduced a framework called sustainomics to make development more sustainable.

read more