Search Results for Tag: photo competition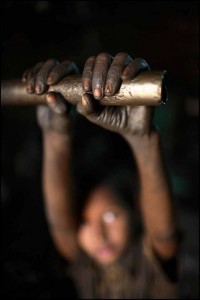 GMB Akash of Bangladesh won first place in the international photo competition called "KLICK! – Your View of Human Rights and Globalization". The name of his winning picture is "Children's Hands". The contest was launched by Deutsche Welle and Amnesty International. The winning photographs were decided by around 1,500 participants at this year's Deutsche Welle Global Media Forum in Bonn, Germany, which ended on Wednesday, 22 June 2011.
Of his winning shot, photojournalist GMB Akash says, "It shows eight year old Munna who works in a rickshaw factory in Dhaka, Bangladesh. The boy earns about 500 taka (7 U.S. dollars) a month, working 10 hours a day. When production often stops due to lack of electricity, he has time to play. It is common in Bangladesh for children of poor parents to work in various hazardous and labor-intensive
First Place Winner: "Children's Hands" by GMB Akash

workplaces to support their families. Seventeen and a half percent of all children aged between 5-15 are engaged in economic activities. The average child worker earns between 400 to 700 taka per month, while an adult worker earns up to 5,000 taka per month." One U.S. dollar equals about 70 taka.

read more