Search Results for Tag: wmc
In this installment of our Journalists@Work series, we talked to Kem Sokunthy (Kunthy), a radio producer from Cambodia. In April 2013, Kunthy participated in the radio workshop "Inclusion of people with disabilities" held by DW Akademie and the Women's Media Centre of Cambodia (WMC).
Kunthy studied literature, education science and political science at different universities in Phnom Penh. During her studies, she also gained journalistic skills at the Cambodian Ministry of Information.
These days, Kunthy works for WMC Radio FM 102, which produces educational programs designed for all sectors of Cambodian society, especially women in rural areas. In this blog post, she gives us some insight into her work as a journalist in Cambodia.

read more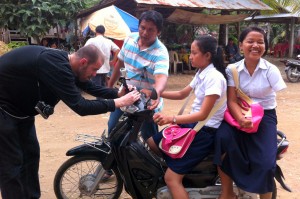 In many societies, people with disabilities are pushed aside – be they mentally challenged or physically impaired. Some of them have to beg for money in the streets, others stay out of sight or are even locked away.
In Cambodia, the country's Disability Action Council (DAC) estimates that nearly five percent of the population of 14.9 million people is disabled. According to the UN Economic and Social Commission for Asia and the Pacific (UNESCAP), Cambodia's high disability rates can be attributed to three main factors:
• "past war casualties
• the ongoing risk of mines,
• the lack of prevention and primary care for various disabling diseases."
The Cambodian media don't often deal with the lives of the disabled. One reason may be shyness or ignorance on the part of the journalists about the life of people with disabilities. But two recent television training workshops have helped improve the way journalists portray people with disabilities in the media. They were jointly organized by DW Akademie, Germany's GIZ and the Women's Media Centre of Cambodia.

read more