Search Results for Tag: Björn Rosenthal
How are media companies moving forward in the digital age?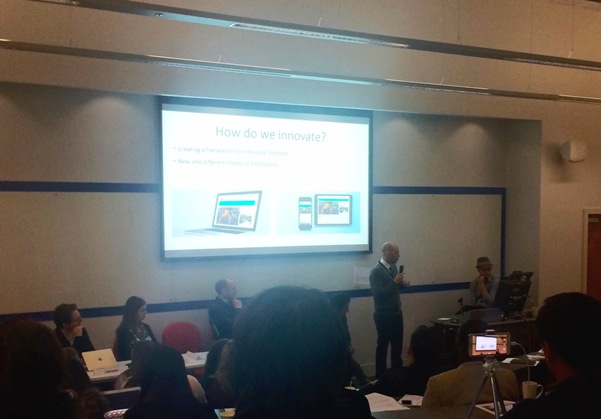 A common theme in the modern analysis of journalism is that the old ways of production and distribution are falling apart and taking the traditional models with them. Some of the brightest minds in international media recently gathered in London for the Journalism Innovation Summit to demonstrate how this shift has opened the door to creative destruction that fosters both innovative production and distribution.
How do media companies innovate? It's about going out of their comfort zones and not just following the pack. That was one of the principle messages of the summit hosted by City University London. Björn Rosenthal, Strategic Product Manager at DW, was at the summit as part of an expert panel titled, "How news organizations are pushing innovative forms of content." During his presentation, Rosenthal introduced DW's development of new media, including mobile apps and how DW is improving second screen functionality to enhance audience experience with linear television content. The panel was moderated by Nathalie Malinarich, Mobile Editor of BBC News Online. Other panel speakers included Nate Lanxon, Senior Editor at Bloomberg Media and Subhajit Banerjee from the Guardian.
"Innovative work really depends on the participants," said Rosenthal. "We work hand in hand with the editorial team to think about what could come up next – because this differs around the world." After the panel discussion, Rosenthal led an app development workshop using the  DW app as an example. He emphasized the apps must have features for all types of audiences from the high level of functionality provided by the Apple Watch to offline and text modes for mobile apps. He also introduced the new DW app, which will be available for download for Apple and Android devices in June. The app is more user-friendly and packed with new functions like chromcast that transfers audio and video content directly to a TV, push-notifications for breaking news, offline, and low-bandwidth text mode.
Sponsoring partners of the Journalism Innovation Summit include Wayra, Telefónica's startup accelerator and BBC News Labs.