Search Results for Tag: Bonn Rhein-Sieg University of Applied Sciences
Bringing the show to the audience
Even with all the possibilities for communication that exist today, there is still no substitution for real, human contact. That's why, Shababtalk, the talk show for millennials on DW (Arabia) started its Arab World Tour.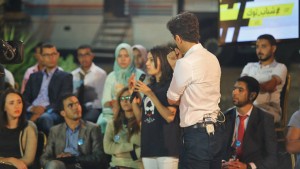 "The show has become a voice for young Arabs," says Shababtalk host Jaafar Abdul-Karim. "That's why we want to get closer to our audience and topics. A tour like this is the first of its kind in Arab TV programming."
This past week, Shababtalk was broadcast from Rabat, Morocco, produced in cooperation with the television stations Al Oula and Al Maghriba. This was the third stop on the tour, after successful shows in Baghdad, Iraq and Tunis, Tunisia.
Under the Moroccan stars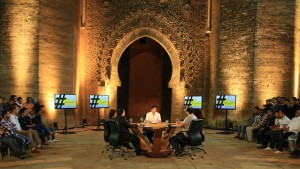 In Rabat, Abdul-Karim invited guests to a different kind of television studio, set up in front of the gates to the city. This current show revolved around how the younger generation can influence political decisions in Morocco – something that strikes a chord with nearly everyone. The participants couldn't come to a consensus either, with political representatives stating that everyone has a voice, to a podcast producer saying that the political elite "don't even speak our language".
This is a reaction that is typical for the show, which tries to shed light on different opinions. The editorial team behind the program addresses bold topics and social issues that are generally considered sensitive or a taboo in Arabic-speaking countries. Whereas young audiences perceive this as a welcome sign of openness, the show has repeatedly stirred the anger of conservative forces and government officials in the region.
The Arab World Tour is just a further element of DW's Local Heroes campaign. The next stop will be Cairo on October 24.
Tags
Al Maghriba
,
Al Oula
,
Arab World Tour
,
Baghdad
,
Bonn Rhein-Sieg University of Applied Sciences
,
cairo
,
DW Arabia
,
Iraq
,
Jaafar Abdul Karim
,
millennials
,
Morocco
,
Rabat
,
Shababtalk
,
talk show
,
Tunis
,
Tunisia
How to bring together theory and expertise to train international journalists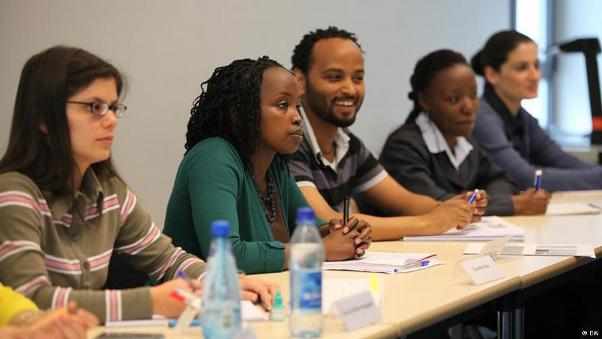 Many journalism degree programs can miss providing students with a clear set of skills to be effective in the workforce. Many universities, especially in developing nations, lack the technical resources to provide students with these skills, leaving that part of their education to internships, which are not always structured or guarantee that the student will acquire practical expertise.
Journalism does not exist in a vacuum. It's essential that journalists, especially those working in international contexts, understand the different social, political and economic frameworks in which events play out – but an educated mind requires educated hands.
DW Akademie, in cooperation with universities in Bonn, puts the resources of a world-class broadcaster in the hands of students. Those who earn a place in the International Media Studies (IMS) Master of Arts program receive a one-of-a-kind educational opportunity, combining the professional competence of DW with the high academic standard at the University of Bonn and the Bonn Rhein-Sieg University of Applied Sciences.
IMS takes a theoretical approach and backs it up with practical experience leaving graduates with a cohesive skill set that will enable them to know what they are doing and why. The curriculum includes everything from media systems and media management to globalization and development studies – all combined with hands-on projects.
The students are another important part of what makes IMS special: They come from all over the world. IMS is aimed at aspiring media professionals from developing countries who will be able to put their education to work where it is needed most.
The wide-range of master's theses attest to the diversity of each IMS class. Two recent graduates produce Multicoolty, an entertaining blog that profiles life in Germany from the perspective of foreigners. Another group of students worked on a research project examining press coverage of Egypt. Intriguing research on international media is also published in the context of IMS.
IMS is currently accepting applications for the upcoming class. Important information from the program requirements to costs and logistics can be found in the FAQ. If you are interested in becoming an IMS student, don't miss this unique opportunity.  Prospective students have until March 31, 2015 to apply.
Tags
Applications
,
Bonn Rhein-Sieg University of Applied Sciences
,
college
,
continuing education
,
DW-AKADEMIE
,
Germany
,
higher education
,
International Media Studies
,
MA
,
master's degree
,
master's thesis
,
media training
,
Multicoolty
,
University of Bonn