Search Results for Tag: Digital Activism
DW is advancing digital activism in Nigeria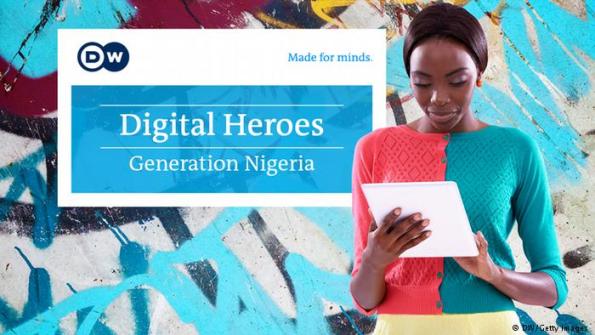 Social media and digital activism play a pivotal role in the media landscape of developing countries. DW's blogging contest, Digital Heroes – Generation Nigeria, put a spotlight on Nigeria's brightest young bloggers who care about the future of their country.
They contestants were asked to create a written, photographic or video project that addressed environmental issues in Nigeria. Over 400 entries were received. At an event in Lagos last week, the winners were honored and the grand prize was awarded to a photo project that profiled widespread oil pollution in Nigeria's Niger River Delta.
Social media has become indispensible for Nigerian youth and beyond being used a social tool, it is now growing into a social force. The winner of the contest, Solomon Sodeinde, said that social media is the most effective way to raise awareness amongst youth. His project on the Niger River Delta serves as an example of the power that can be placed in the hands of active young people who see problems in their societies.
At the discussion, Nigerian social media experts and bloggers discussed the growing importance of social media in Nigeria and the risks and opportunities that it presents. With the widespread availability of information on so many networks, it is the bloggers' responsibility to make sure that there work is based on facts and research.
The contest is part of DW's digital strategy, which isn't only about producing the best content for users, but also about helping create a culture of digital activism in our broadcasting regions around the world.
DW honors sacrifice in the name of free speech
Out of all the recent sacrifices made in the name of freedom of speech, the tribulations of the Saudi Arabian activist Raif Badawi poignantly exemplify the precarious condition of free speech in some parts of the world today. This year Badawi is the recipient of the first DW Freedom of Speech Award, which is being presented by DW in conjunction with "The Bobs- Best of Online Activism" awards.
Badawi was arrested in 2012 and charged with insulting Islam through electronic channels via his website, Free Saudi Liberals, which provided a public forum for social criticism in Saudi Arabia.  In May 2014 Badawi was sentenced to 10 years in prison and 1,000 lashes to be carried out 50 at a time for 20 weeks. He was publically flogged 50 times in January. It is feared that he will die if subjected to the full extent of his sentence.
With this award, DW is actively taking part in the international protest against the treatment Badawi is receiving simply for publicizing his opinion. Amnesty International  has started a campaign calling for his immediate release. On social media , supporters have gathered around the hashtag , #iamraif. A group of academics and social activists from the United States Commission on International Religious Freedom even offered to each take 100 of the lashes that would have been administered to Badawi rather than "stand by and watch him be cruelly tortured."
Badawi will be regognized by DW at The Bobs awards ceremony during the 2015 Global Media Forum in Bonn on June 23.
Taking a new look at digital activism

For the past 11 years, The Bobs is where DW has honored the world's most courageous, creative and compelling international online activists and bloggers.
The 2015 competition is kicking off with new categories that introduce a fresh focus on how digital activism is changing the world. The Bobs jury categories will now put the spotlight on the critical issues of privacy and security, arts and media and social change. Judges will determine how contestants have used their digital skills and activism to create positive impacts within these fields. The new format also allows for more than one contestant to stand out for their exemplary work.
How can a digital crusader improve economic development and living conditions? Who is producing the most innovative or avant-garde formats to speak out online? What is the most cutting-edge software for protecting data and digital privacy? On June 22 at the Global Media Forum in Bonn, we will all get the chance to find out.
The core values of the Bobs remain the same, even if they will now be presented more directly. Last year's winner of best blog was the Egyptian photo blogger, Mosa'ab Elshamy, who showed courage combined with a brilliant eye for powerful imagery. His blog is an example of where fine art meets journalism. In 2013 the "grand prize" winner was the Chinese blogger Li Chengpeng, whose tireless efforts for freedom of speech made him a digital celebrity in China and a salient example of contemporary activism as well as a trendsetter for those living under oppression. No matter the year or the format, the Bobs have always looked for the bravest and the best.
If you are a blogger or online activist you can submit your website now. You have until March 12 to enter your submissions.
Tags
2015 GMF
,
blogs
,
censorship
,
China
,
Digital Activism
,
Egypt
,
Freedom of Speech
,
Li Chengpeng
,
Mosa'ab Elshamy
,
online activism
,
the bobs