Search Results for Tag: DW Freedom of Speech Award
Market roundup: May 2017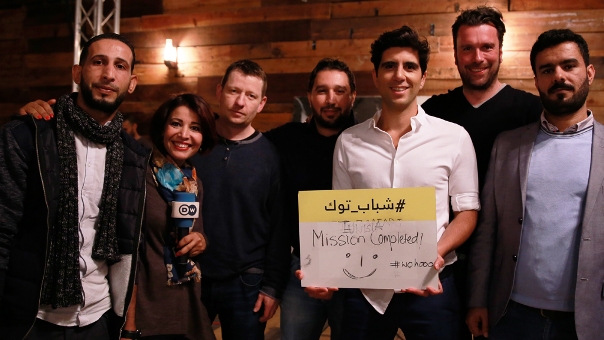 Middle East
DW's talk show for youth in the Arab world, Shababtalk, has been honored as the best Arabic talk show by the Arab States Broadcasting Union (ASBU). It is the third year in a row that Shababtalk has earned this distinction. The ASBU decision was especially motivated by a Shababtalk edition that focused on the role of Arab youth six years after the Arab Spring.
A report produced by DW in Baghdad with the support of Iraqi partner Al Rasheed TV also won a gold award from the ASBU. The emotional report was produced as part of Shababtalk's tour of the Arab world last year and profiled a developmentally disabled Iraqi girl . Shababtalk is expected to go on tour to six locations in the Arab world in 2017.
Europe
Leading Lithuanian broadcaster INIT TV is providing 500,000 households around the country with the popular DW shows Focus on Europe and Europe in Concert. Focus in Europe will be broadcast with a Lithuanian voice over and Europe in Concert is also being shown on INIT's music channel, PLAY TV.
North America
The 2017 DW Freedom of Speech award will be given to the White House Correspondents' Association (WHCA). The DW Freedom of Speech Award honors a person or initiative that provides an outstanding example for freedom of expression and human rights. DW said the WHCA had established a new benchmark in holding US leadership accountable.
With the award DW recognizes the important work of ensuring clarity and transparency from an increasingly uncooperative US presidential administration and amid accusations of "fake news" and attacks on journalistic integrity. WHCA President Jeff Mason will receive the award at the Global Media Forum on June 19.
Bangladeshi freedom of speech in exile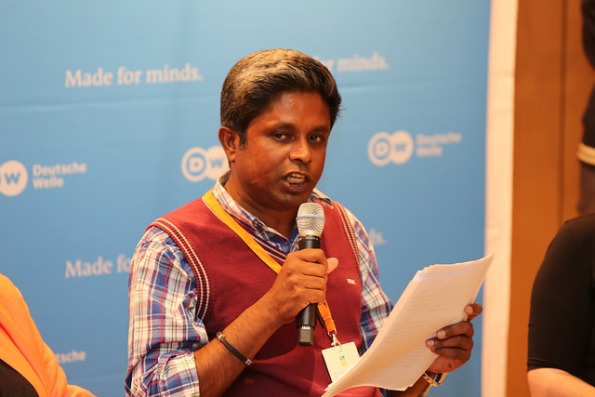 When the Bangladeshi blogger and publisher Ahmedur Rashid Chowdhury was attacked by Islamists in his office in October 2015, he had been continuing to exercise free speech while knowingly living under threat. At the time several other bloggers who worked with Chowdhury had already been hacked to death for secular and critical writing, including the blogger Avijit Roy earlier in 2015. Barely escaping with his life, Chowdhury decided to leave Bangladesh and currently has asylum in Norway, from where he continues to write about his home country.
Speaking in a panel at the Global Media Forum, Chowdhury acknowledged that he has difficulty talking after the machete attack, as he explained that he would continue to write for those in Bangladesh who are "uneducated and need to know".
He is one of many Bangladeshi thinkers, writers and bloggers who have been forced to flee their country to Europe, caught somewhere between brutality and isolation just for telling the truth. Also at the panel were Anaya Azad and Shammi Haque who are two young bloggers from Bangladesh who have been forced to leave their friends and families and were given asylum in Germany. They continue to work for people in Bangladesh, while looking forward to the day when they may return home.
The exiled bloggers said that the unifying factor in the deadly climate in Bangladesh was Islamic-based religious extremism that vehemently disallows any criticism or thought that goes against its precepts. This is combined with the unwillingness of government and police to combat extremism. Bloggers make easy targets where the killers are unknown and the government and police take no action. According to one of the panelists, nine bloggers in Bangladesh were killed last year.
DW is actively supporting these brave voices and making sure their stories are heard around the world. The panel was part of a larger campaign, Bloggers at Risk, which focuses on free speech, human rights and freedom for incarcerated bloggers around the world.
DW honors sacrifice in the name of free speech
Out of all the recent sacrifices made in the name of freedom of speech, the tribulations of the Saudi Arabian activist Raif Badawi poignantly exemplify the precarious condition of free speech in some parts of the world today. This year Badawi is the recipient of the first DW Freedom of Speech Award, which is being presented by DW in conjunction with "The Bobs- Best of Online Activism" awards.
Badawi was arrested in 2012 and charged with insulting Islam through electronic channels via his website, Free Saudi Liberals, which provided a public forum for social criticism in Saudi Arabia.  In May 2014 Badawi was sentenced to 10 years in prison and 1,000 lashes to be carried out 50 at a time for 20 weeks. He was publically flogged 50 times in January. It is feared that he will die if subjected to the full extent of his sentence.
With this award, DW is actively taking part in the international protest against the treatment Badawi is receiving simply for publicizing his opinion. Amnesty International  has started a campaign calling for his immediate release. On social media , supporters have gathered around the hashtag , #iamraif. A group of academics and social activists from the United States Commission on International Religious Freedom even offered to each take 100 of the lashes that would have been administered to Badawi rather than "stand by and watch him be cruelly tortured."
Badawi will be regognized by DW at The Bobs awards ceremony during the 2015 Global Media Forum in Bonn on June 23.