Search Results for Tag: Peru
Market roundup: November 2012
Latin America
DW's Distribution team continued its successful year in Latin America at Jornadas in Buenos Aires. With the new Spanish-language channel DW (Latinoamérica), DW representatives were able to work out agreements with more than 20 new partners from Argentina, Uruguay and Peru. The channel has been airing since February and is tailored to the Latin American market.
Asia
Metro TV is the first partner in Indonesia to be included in the DW series World Stories. Metro TV is a nationwide news channel that was launched 2000. Metro is broadcast from Jakarta with a network of 53 regional stations and reaches more than 3 million viewers throughout Indonesia. It is also available via cable and DTH. Metro has been broadcasting DW television programming since 2001.
Also in Indonesia, Banten TV has become the fifth partner to include the new DW series Inovator into its lineup.
Mobile
News feeds from DW will be integrated into the next generation of Lumia smartphones from Nokia that have Windows Phone 7 and 8. The news feeds will be pre-installed on the Reading app and available in English, German and Russian.
DW taking flight in Latin America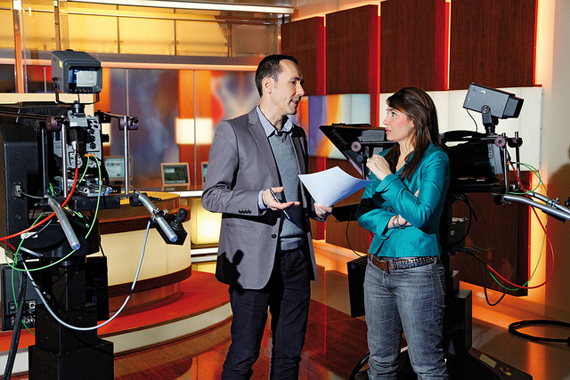 Deutsche Welle (DW) will be expanding its Spanish television service for Latin America from two to 20 hours daily, starting February 6, 2012. The new lineup for viewers between Mexico and Tierra del Fuego is part of a comprehensive reform process designed to reposition DW in the international media landscape. The expansion of the program for Latin America will significantly increase DW's presence there.
DW officially announced the changes at the World Economic Forum in Davos on January 26. Mexican President Felipe Calderón said: "It is great to have a partner like Deutsche Welle broadcasting for 20 hours in Spanish. It opens up new opportunities in Latin America. The program will be a bridge to Europe, and Germany in particular. DW has seen success in the competitive television market in Latin America from day one. Around 850 partners throughout the region have included DW programming in their lineups so far – and negotiations with other partners are currently under way.
The new Spanish program required a lot of hard work and restructuring. A big change is in store for Gonzalo Cáceres, who has been a host for Journal and Cuadriga for years. His new job will be to manage and host Claves with partners on location. including ARTV in Chile, SJRTV in Mexico and RTVC in Colombia. The new show will focus on the latest issues in Latin America.
DW will also be welcoming several new faces – among them, Silvia Cabrera. She will be hosting Berlin poltico and Journal. According to Cabrera, DW has a lot to gain in Latin America by setting itself apart as a reliable, objective source of information.
Another addition is Paco Furio. Not only will he be the new producer and host for sports on Journal, but he will also help manage the magazines Reporteros en el mundo, PopXtra and Europa semanal.
"German punctuality and reliability is something that you can count on," says Carolina Chimoy. The daughter of a Peruvian diplomat will be hosting Journal as well as Reporteros el mundo dazu.
The new Spanish program for Latin America will also receive support from a completely redesigned website for Spanish-speaking users. In the future, the editorial team will be made up of more than 130 employees.
Tags
ARTV
,
Chile
,
Claves
,
Colombia
,
Latin America
,
Mexico
,
Peru
,
RTVC
,
SJRTV
,
Spanish
,
television
,
TV


1
2