Search Results for Tag: Poland
Strengthening ties between neighbors through sharing media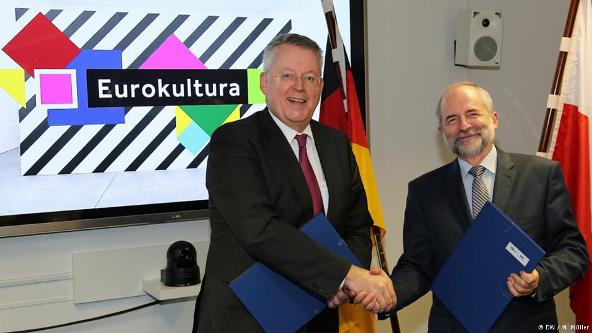 Building on 15 years of successful cooperation, DW and Polish public broadcaster TVP have laid the groundwork for future projects with a new cooperation agreement signed earlier this month.
The agreement was signed after a public preview of DW and TVP's latest collaborative project, Learn Polish, at the Checkpoint Charlie museum in Berlin. Learn Polish tells the story of solidarity between the Polish trade unionist movement, Solidarność, and East German oppositionists during the 1980s. DW started broadcasting the documentary in English, German and Spanish on November 5. TVP will begin broadcasting the Polish version on December 15.
Another recent collaborative project from DW and TVP is the Polish-language documentary format Eurokultura. The program features DW reports adapted into Polish which are then sent to Warsaw and put together by TVP into a 15-minute show. Eurokultura premiered October 5. Each show is also available on DW's Polish website.
Both broadcasters are looking forward to working together in the future.  DW Director General, Peter Limbourg, said that DW could potentially expand its cooperation with TVP by providing news content. TVP Director General, Juliusz Braun expressed interest in continuing with the German-Polish multimedia project, Nachbar– Wie geht's? (How are you neighbor?), which aired earlier this year.  The format was produced in cooperation with the Leipzig-based German public broadcaster, MDR. It compares the lifestyles of a German family from Erfurt with a Polish family from Łomża, north of Warsaw. The portrayal of everyday life in Germany and Poland brings to light the common values shared by the two families and both nations.
DW's ongoing cooperation with TVP reflects the role of cooperative broadcasting in enhancing European integration. Limbourg commented that these projects were important for, "the German-Polish neighborhood, for Europe and for the values of freedom and democracy."
As the representative for Germany in the international media landscape, DW has a unique role in creating and promoting content that can help bring Europe closer together by highlighting shared values and common goals which know no borders.
Market roundup: September 2012
Europe
Clicks on DW's Polish-language site have gotten a major boost thanks to partnerships with Poland's three leading online portals, Gazeta.pl, Wirtualna Polska (wp.pl) and Gazetapraca.pl. The click count jumped from 251,000 in April 2012 to 2.5 million in June. Working in tandem with Distribution, the three Polish sites posted links to selected articles about society and politics as well as DW's "Studying in Germany" series.
Asia
A new Asian partner has gotten on board with TV magazine "Inovator," which is produced in Bonn. Indonesia's Tempo TV started broadcasting the show nationwide in August. "Inovator" is the seventh DW TV magazine the education-oriented station has picked up since August 2011. Tempo TV will broadcast "Inovator" via DTH satellite provider Aora, which has about 450,000 subscribers in Indonesia and is one of the country's main television platforms.
In Ho Chi Minh City, Vietnam, teachers at the respected Deutsche Zentrum have received supplementary learning materials to use DW's online German course in the classroom.
DW has begun using a new monitoring station in Sydney to keep track of satellite broadcasts and live streams in the region. Technical Distribution has set up a system for monitoring Asiasat 3S as well as a StreamMon system at Australian national broadcaster SBS. Distribution entered negotiations with SBS once the establishment of a relay station in Tincomalee, Sri Lanka made the previous monitoring station for Asiasat 3 obsolete. DW now has StreamMon systems operating on every continent.
Last but not least, leading Pakistani outlet Raml Media Services is now a DW partner. The firm, which has been in operation 30 years, will help distribute DW live streams and content boxes to other partners.