Search Results for Tag: sustainable development
Ecopia's focus on building a sustainable future strikes a chord, wins awards
DW's In Focus has always presented an endless variety of insightful and educational documentaries and one of their new productions, Ecopia, is a must-see for everyone who loves cities and architecture.  The six part TV-series on "intelligent building and sustainable living" recently won awards at three European film festivals.
The entire series won the grand prize in the "People and Society" category at the Ekofilm awards in the Czech Republic. Part six of the series, "Tourism goes green", won the jury prize at the Tourfilm festival, also in the Czech Republic. Part five of the series, "Modern Culture Temples", received a special mention at the European Environment Festival, "Green Wave – 21 Century", in Bulgaria.
The series features in-depth reporting with architects and experts on ecological building projects and urban planning in places like New York, Hamburg, London and many other places in almost every corner of the world. Watch it now online.
Next Global Medium Forum to focus on economic values and the media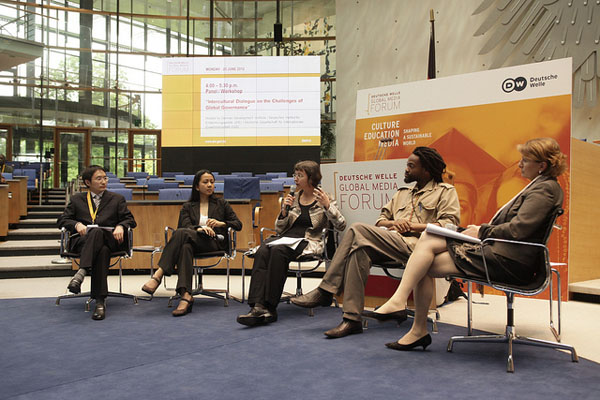 Planning is already underway for the next Global Media Forum, DW's annual conference featuring panel discussion, workshops and more with representatives from the media, civil society and other sectors.
The theme for the June 17-19, 2013 Global Media Forum is "The Future of Growth – Economic Values and the Media." The conference will address the ongoing challenges facing the world economy, from political tensions to climate change and resource scarcity.
Event organizers stated: "Sustainable economic development is a sociopolitical issue in which the media play an important role. The convey information and knowledge. But they are also expected to alert us to problems and hold those responsible accountable for their actions."
Topics for discussion at June forum will include good governance for sustainable development, balancing economic growth, the economy and the environment, and the path to social justice.
Global Media Forum 2012 underway
Deputy Director General of Deutsche Welle, Reinhard Hartstein officially opened the Deutsche Welle Global Media Forum today. His message: "Upbringing, culture and education for all are key to peaceful interaction, to sustainable development and to intercultural dialogue."  More than 1,800 participants from around the world are now in Bonn to discuss "Culture. Education. Media – Shaping a Sustainable World." If you aren't attending, a great way to keep track of the latest developments and issues taking the forefront is the Twitter tracker. The Global Media Forum team is showcasing all of the live tweets from panel discussions and workshops and you can check in to see what is going on.