Search Results for Tag: conference
Global Media Forum 2012 underway
Deputy Director General of Deutsche Welle, Reinhard Hartstein officially opened the Deutsche Welle Global Media Forum today. His message: "Upbringing, culture and education for all are key to peaceful interaction, to sustainable development and to intercultural dialogue."  More than 1,800 participants from around the world are now in Bonn to discuss "Culture. Education. Media – Shaping a Sustainable World." If you aren't attending, a great way to keep track of the latest developments and issues taking the forefront is the Twitter tracker. The Global Media Forum team is showcasing all of the live tweets from panel discussions and workshops and you can check in to see what is going on.
DW Global Media Forum underway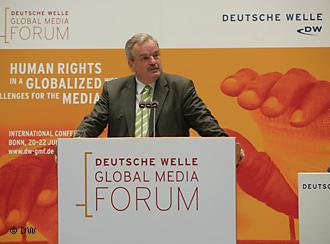 The fourth Deutsche Welle Global Media Forum commenced this morning with an opening ceremony and keynote session at the World Conference Center Bonn. This year's conference is focusing on "Human Rights in a Globalized World – Challenges for the Media".
The opening ceremony featured DW Director General Erik Bettermann, as well as Jürgen Nimptsch, Mayor of Bonn and Angelica Schwall-Düren, Minister for Federal affairs, Europe and the Media, State of North Rhine-Westphalia.
The keynotes will be held by Thorbjørn Jagland, Secretary General of the Council of Europe,  Morten Kjaerum, Director of the European Union Agency for Fundamental Rights and Dunja Mijatovic, OSCE Representative on Freedom of the Media.
You can check out today's conference program here.
Read the official press release here or watch videos from the conference.