Search Results for Tag: terrorism
Four things you may have missed at the 2018 DW Global Media Forum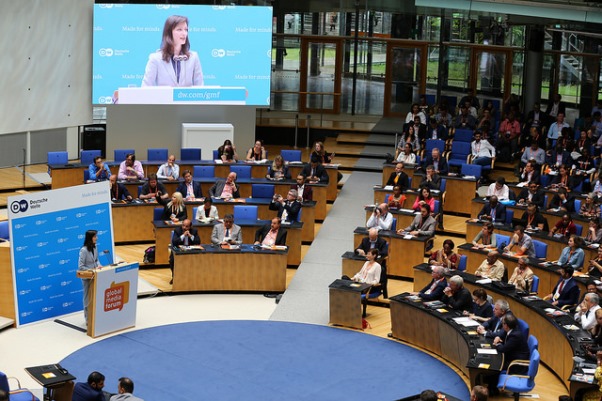 The 2018 Global Media Forum wrapped up last week with over 2,500 guests from all over the world gathering in Bonn for three days of learning and networking. You probably caught the keynote speeches, and the DW Freedom of Speech Award , but here are four events at the 2018 Global Media Forum you may have missed.
1. Peace With the Taliban: A Compromise on Human Rights?
On Tuesday, former Afghan President Ahmed Karzai was joined by DW journalists and the German envoy to Afghanistan to discuss the potential for peace with the Taliban in a country beset by continuous conflict. The discussion provided first-person insight into a complicated and unstable region from someone who has played an integral part in its politics.
2. Reporting terror: Who sees what, when and why?
Four journalists with experience in reporting from crisis regions around the world gathered for a panel discussion on Monday to discuss how stories about terrorism are portrayed unequally in the media. For example, the Charlie Hebdo attack dominated the media, while 2,000 people killed by terrorists in Nigeria at the same time didn't make the news cycle. The panel provided a riveting, inside look at challenges and dangers of delivering information from dangerous areas while looking for an audience.
3. Threats and opportunities of increasing isolationism to international power relations
At a plenary discussion on Tuesday, a panel of prominent journalists and academics discussed the trend of isolationism, especially with Donald Trump's "America First" politics. One speaker discussed the danger of the US losing soft power on the world stage and being ignored internationally. The panel provided a preview of a future that looks a lot different than today.
4. Lie Detectors
The final day of the Global Media Forum was devoted to media innovation. As part of the Innovation Lab day, DW Akademie invited the media competence organization Lie Detectors, which goes to schools and teaches children media literacy and how to spot fake news stories from real reporting. As online news and social media are the primary sources for a new generation of media users, this service will become even more valuable.
Laughing in the face of terror
Terrorism, extremism and corruption are things Ahmed Al-Basheer knows personally. The Iraqi comedian has lost two family members to terrorist militias and would face great danger if he returned to Iraq. Nevertheless, Al-Basheer maintains a strong sense of humor and directs scathing satire and absurd jokes at everyone from Islamic State terrorists to corrupt officials.
Every two weeks, Al-Basheer and his team use their own money to produce "The Al-Basheer Show" from a private residence in Amman, Jordan. Up until now the show had only been published online, and despite having more then 30 million views since its 2014 launch, no broadcaster would risk airing it.
As an advocate for freedom of expression worldwide, DW is now the first broadcaster to televise the show. Audiences throughout the Arab world can now watch The Al-Basheer Show in Arabic on DW (Arabia). In cooperation with Jordanian partner Al Sumaria, the show will be broadcast every Friday evening during prime time.  Al-Basheer has made a big name for himself and will make an important contribution to DW's presence as a beacon for reliable news and free speech in the region.
By using humor to bring serious issues to the public sphere, The Al-Basheer Show represents a small island of free expression in a sea of extremism and oppression. The success of his program indicates that there are many people in the Arab world who relate to his message and understand the deadly absurdity that extremism brings.
Ten years after

This year marks the 10th anniversary of 9/11 and Deutsche Welle is remembering how this one day would change the world forever. With  9/11 and the global consequences, DW brings you insights and opinions from around the world. DW's editorial team is also looking for your input – How did 9/11 change your life or worldview? Submit  your thoughts, photos (with short descriptions), or both.