Search Results for Tag: WCCB
DW Global Media Forum underway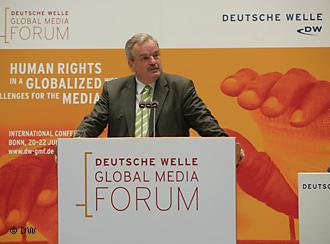 The fourth Deutsche Welle Global Media Forum commenced this morning with an opening ceremony and keynote session at the World Conference Center Bonn. This year's conference is focusing on "Human Rights in a Globalized World – Challenges for the Media".
The opening ceremony featured DW Director General Erik Bettermann, as well as Jürgen Nimptsch, Mayor of Bonn and Angelica Schwall-Düren, Minister for Federal affairs, Europe and the Media, State of North Rhine-Westphalia.
The keynotes will be held by Thorbjørn Jagland, Secretary General of the Council of Europe,  Morten Kjaerum, Director of the European Union Agency for Fundamental Rights and Dunja Mijatovic, OSCE Representative on Freedom of the Media.
You can check out today's conference program here.
Read the official press release here or watch videos from the conference.