Search Results for Tag: World Screen
Limbourg highlights changes in interview with World Screen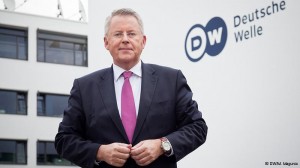 In an interview with World Screen, DW's Director General sheds some light on the organization's goals for the future – including making a flagship channel in English and concentrating on the essentials for quality news reporting.
"My goal is to position DW where it should be, as a globally recognized source of information. By using our inherent German sensibilities to cover international news, we will offer new perspectives to world issues, as well as in-depth analysis and insights to help complete the picture. "
You can read the whole interview here. DW also recently announced the action plan for the next four years with details on the areas of focus. The press release is available at dw.de.
'Overhauling operations' in TV Real
Guido Baumhauer, DW's Managing Director of Distribution, Marketing and Strategy, was recently interviewed by TV Real Weekly about the upcoming changes at DW.
"This overhaul is actually the biggest in Deutsche Welle's history," Baumhauer says. "We are now bringing our multiplatform strategy to life."
Find out more about what he had to say about the new direction DW is taking here.