Search Results for Tag: dw.de
Flipboard and Bing make DW a centerpiece of interactive content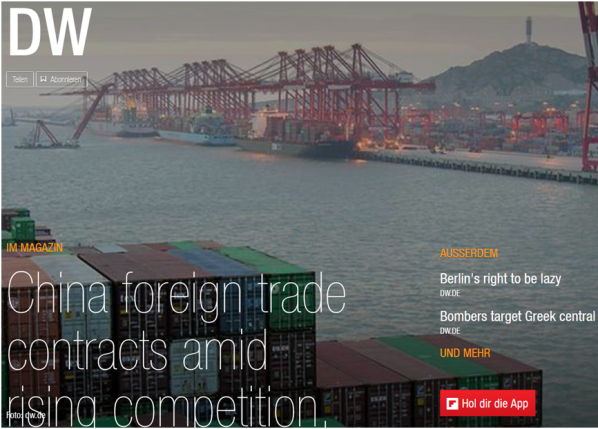 The Internet is an open frontier for creative media. By cooperating with partners who are developing innovative media applications, DW is finding new ways to present and reformat content. One of the latest collaborations is with Flipboard, an innovative App that allows users to curate an online "personal magazine".
 The winner of Apple's 2010 App of the year features a novel yet simple functionality and with one click, users can "flip" an article or other online content onto a personalized platform that has an attractive magazine style layout. DW news content in 14 languages is now available for use with the App and each website is presented in a magazine format with a "cover story" that updates automatically. Flipboard reflects the diversity of DW's news services with a variety ranging from Arabic to Chinese and Russian. By clicking on an article, users are redirected to the DW website. The partners at Flipboard are already enthusiastic about the attractive layout of the sections prepared by DW's marketing team. Flipboard's user-generated magazines provide a great example for how audiences can take control of their content.
In another exciting partnership, a team from DW has recently been working with developers at Microsoft to ensure that online content from DW is featured prominently on Bing news, the sleek online news application now included on all Windows 8 devices. There have been over a million page views since DW first went online in German with Bing news last month. Content from DW in 11 languages is set to be integrated into the App in the coming weeks. DW is keeping an eye on the horizon and will continue to play a part in more exciting and creative developments with online media in the future.
'Overhauling operations' in TV Real
Guido Baumhauer, DW's Managing Director of Distribution, Marketing and Strategy, was recently interviewed by TV Real Weekly about the upcoming changes at DW.
"This overhaul is actually the biggest in Deutsche Welle's history," Baumhauer says. "We are now bringing our multiplatform strategy to life."
Find out more about what he had to say about the new direction DW is taking here.