Reporting climate change in Vietnam and in Germany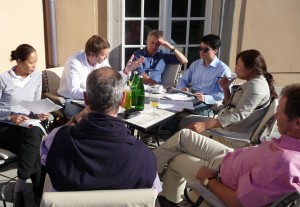 How can the media cover climate change? How do Vietnamese journalists report the topic in their country's media and how do German journalists cover it for German audiences?
These were the key questions for the first German-Vietnamese Media Dialogue in late September 2011. Journalists from different media in both countries got together to discuss the issue in Germany. The German Federal Foreign Office had invited them to the four-day event, providing a forum for discussion, presentations and excursions. DW-AKADEMIE and GIZ-AgenZ planned and organized the event.
There are key differences in how journalists in both countries can cover environmental issues and the effects and causes of climate change. Vietnam is one of the countries worst affected by the impacts of climate change: It has a coastline of more than 3,000 kilometers and is experiencing an increase in typhoon activity, heavy rains and dry spells.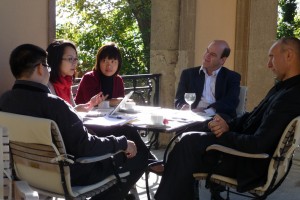 So while climate change is definitely relevant for the people of Vietnam, one of the problems for journalists there is that most of the population lives in rural areas, doesn't have access to modern communication technology and leads the simple life of farmers. How can you make a complicated and controversial issue like climate change understandable for this audience? That's a major challenge for Vietnamese journalists.
Journalists in Germany face some of the same problems when they want to report on a complex topic like climate change. But for them, the audience's awareness level isn't the biggest problem. What's lacking instead is interest in the problem because Germany isn't as directly affected. So German media often only give journalists very limited time or space to cover the issue. The result is often over-simplification.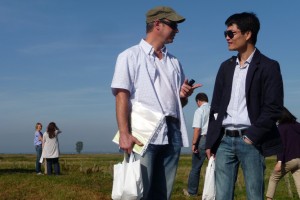 During the four-day media dialogue, the Vietnamese and German journalists exchanged ideas on how to overcome such obstacles. TV journalists from Germany discussed their working conditions with their colleagues from Vietnamese television; print, radio and online journalists did likewise.
"I think we all learned big lessons when joining this dialogue," said Nguyen Thuy Mien, who works for Thanh Nien Newspaper. She noted that taking responsibility for what one writes and reports as a journalist can be easily forgotten, but is a matter of serious importance. Another participant, Nguyen Thi Hong Nga, also praised the dialogue in Berlin for being very useful for her work at Hanoi Radio and TV.
The result of such dedicated interaction was a better understanding of how the media work in both countries and how journalists in Vietnam and in Germany see themselves and their work. Presentations from scientists and representatives of civil society helped supply additional knowledge about climate change and other environmental issues.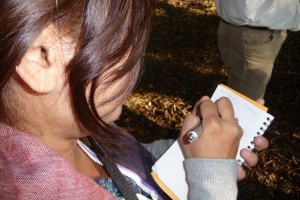 After spending the first two days in Berlin, the meeting wrapped up on the Isle of Vilm in the Baltic Sea. Vilm is home to the International Academy for Nature Conservation, a center for dialogue about environmental topics. Even though the island is small (94 hectares), Vilm's oak and beech forests are among the most impressive in all of northern Germany. The first steps to protect these ancient forests from logging were taken as far back as 1812. In 1936, the Isle of Vilm was designated a nature reserve and in 1990, it was declared a Biosphere Reserve.
A guided tour through Vilm's forest wrapped up the first German-Vietnamese Media Dialogue. But most participants hope that there will be a sequel to this event in Vietnam next year.
This is the blog the journalists from both countries put together during the first German-Vietnamese Media Dialogue: Reporting about Climate Change and Environmental Protection.