Search Results for Tag: audio
Journalists who want to add archived sound material to current affairs stories usually have one big problem: how can they find relevant material in a broadcaster's archive?
For the keepers of these archives, it's a challenge to catalog sound material so that it's easily accessible to journalists. And if the material is on tape or analogue disks, the archive workers also have to find ways to restore and digitize the carriers. Tapes deteriorate easily – especially in tropical climates.
These are key issues that Heidrun Speckmann and Nguyen Pham Hoa Binh (free media consultant in Vietnam) discussed with an international audience at the German Embassy in Hanoi on May 8th, 2012. Heidrun Speckmann has been working as CIM integrated expert and DW Akademie's Media Archive Developing Consultant at Radio The Voice of Vietnam (VOV) since September 2009.
At the German Embassy, the two archive experts presented their long-term consulting projects aimed at modernizing the sound archives of Asian broadcasters. These projects are financed by Germany's Federal Ministry for Economic Cooperation and Development (BMZ).

read more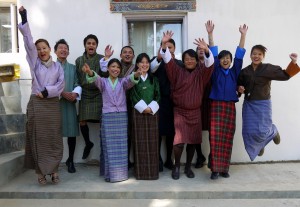 Even high in the Himalayas, reporters these days are being asked to do more.
As part of a modernization drive, Bhutan Broadcasting Service (BBS) has combined their radio and television newsrooms. In the future, reporters will be required to provide news reports in both media. It's hoped that the convergence will allow the state-funded station to cut costs and do more with limited resources.
It was against this background that two DW-AKADEMIE trainers went to Bhutan's high-altitude capital Thimphu to conduct a workshop with an enthusiastic group of 12 young BBS journalists. While several already had some radio production experience, many had previously only worked on the TV side of things.
Together, the group started with a review of the basics, such as news judgment and news writing for radio, before moving on to the interview and how to ask that all-important first question that will grab your listeners and keep them from turning the dial.

read more