Search Results for Tag: Indonesia
Indonesia's media struggles to maintain independence
In Indonesia, like in many Asian countries, the production of palm oil is a contentious issue. On the one hand, palm oil plantations and the palm oil industry create jobs and income. On the other hand, there are controversial land issues involved. Environmentalists criticize the disastrous effects huge palm oil plantations have on biodiversity.
The media can play a decisive role in structuring the debate and making arguments more transparent for the public. In Indonesia, one of the key players in this debate is the NGO SAWIT Watch Indonesia. Its Programme Director Rahmawati Retno Winarni discussed the relationship between the Indonesian media and organizations representing parts of civil society with DW Akademie's Patrick Leusch.
This interview was recorded in front of a live audience during this year's European Development Days in Brussels.
At the European Development Days, DW Akademie presented interviews and debates with representatives from politics, media and international development organizations. Each interview touched on a different aspect of media development.
Organized by the European Commission, the European Development Days is Europe's premier forum on international affairs and development cooperation. This year, the international conference focused on food security, inclusive growth and engaging the private sector for development.
DW Akademie interviews and debates held at the conference are available on our homepage, as well as over Vimeo and Facebook.
By Permadi Kencono Wulan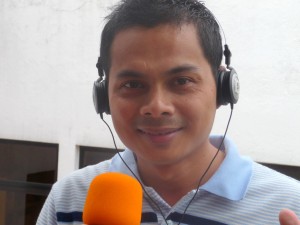 From Indonesia former DW-AKADEMIE trainee Permadi Kencono Wulan writes that almost all of the country's media have been covering the events in Japan from the moments they began. Focus has been on memories of the tsunami that happened in Indonesia, the strength and fortitude of the Japanese people, the impact of the damaged nuclear reactors and on Indonesian eyewitnesses who had been living in Japan, alongside interviews with celebrities who have lived there.
News also stirred about Japanese adult film star Miyabi who had gone missing after the tsunami. Much news space in Indonesia was devoted to coverage of the evacuation and the impact of the nuclear reactors at Fukushima.
The impact of an exploding nuclear reactor
Permadi, who is head of new media at RRI Indonesia, highlighted early reports by Indonesia's Metro TV on the impact of a nuclear reactor that exploded and the possibility of radiation. It communicated how this concerns the world community at large and Indonesia in particular because of the effects of radiation that might spread due to wind, sea water, birds and migrating fish.

read more