Search Results for Tag: social media
Giving the homeless a voice
Homeless people are perhaps the most marginalized group in society. Those who sleep rough on the street are often ignored by the wider public, but Paris local Martin Besson has more empathy than most.
Despite having a home to go to, the 18-year-old chose to spend a night on the street to see what it was like to be homeless. The experience was confronting, and spurred the high school student into action. Last year he launched Sans A, an organization that aims to draw attention to the plight of homeless people – by giving them a voice on social media.
Martin spends his free time getting to know the less fortunate in Paris, and uploading their stories for the public to read. The idea, he says, is to break down the barriers between homeless people and the rest of society.
Listen to the report by Fabien Jannic-Cherbonnel in Paris. 
Date
Tuesday 22.04.2014 | 13:05
Crowdfunding for clean water
Most of us wouldn't think twice about being able to drink a glass of water whenever we want to. But having clean water on tap is a luxury almost 800 million people around the world don't have.
The need for clean water is especially high in Uganda, as Anna Vikky found out. The 27-year-old from Dusseldorf in Germany, launched her own aid organization 2aid.org in 2009. Now she and 2aid.org are working together with a Ugandan NGO to improve access to water and sanitation in a rural region of Uganda.
It was important to Anna to find a partner project that had a grassroots approach. And her funding has also taken a similar path – she's raised a large portion of the needed funds via social media.
Listen to the report by Natalie  Muller in Dusseldorf:
Photographer Falco Peters created this photo series for the 2aid.org website, to convey the group's work and the need for clean water in Uganda:
Date
Tuesday 08.04.2014 | 13:35
German teen tackles racial stereotypes on YouTube
High school student Sidney Frenz's mother was German while his father came from Ghana. Tired of being asked about his dark skin color, he's made a clever YouTube video aimed at promoting tolerance.
Watch the video from DW's Germany Today.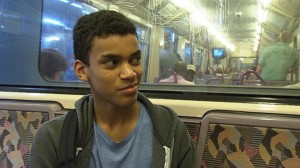 Date
Friday 05.07.2013 | 08:50