Search Results for Tag: YouTube
German teen tackles racial stereotypes on YouTube
High school student Sidney Frenz's mother was German while his father came from Ghana. Tired of being asked about his dark skin color, he's made a clever YouTube video aimed at promoting tolerance.
Watch the video from DW's Germany Today.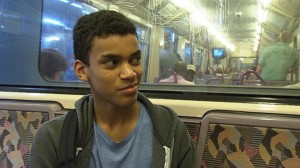 Date
Friday 05.07.2013 | 08:50
Comedian and actress tackles racism with humor in NYC
Forget the "Shit Girls Say" Youtube meme. American comedian and actress Francesca Ramsay a.k.a. Chescaleigh's parody spanning a mere two minutes got over nine million hits. Infusing humor into the serious issue of race relations in America, she's encouraging others to speak out.
Listen to Rachael Bongiorno's report:
Listen to Rachael Bongiorno's report:
Date
Wednesday 06.02.2013 | 14:42