Search Results for Tag: stereotypes
Ciao clichés: Showing Paris the real face of Romania
When Madalina moved from Bucharest to Paris, she fell in love with the city. But she was so disturbed by the stereotypes she encountered that she founded a project to introduce real Romanians to their Parisian neighbors.
The initiative, Je suis roumain (aussi) – I'm Romanian too – breaks down stereotypes by helping Parisians get to know who the local Romanian immigrants really are. One of them, artist Dan Perjovschi, recently joined the campagne with an installation the Immigration Museum.
Listen to the report by Fabien Jannic-Cherbonnel in Paris:
Date
Tuesday 21.01.2014 | 13:03
German teen tackles racial stereotypes on YouTube
High school student Sidney Frenz's mother was German while his father came from Ghana. Tired of being asked about his dark skin color, he's made a clever YouTube video aimed at promoting tolerance.
Watch the video from DW's Germany Today.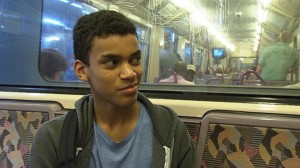 Date
Friday 05.07.2013 | 08:50