Search Results for Tag: South America
The Amazon rainforest is spread out over nine national states of the South American continent. As trees bind carbon dioxide (CO2), the Amazon forest plays a crucial role in climate protection measures. Home to 60 percent of the world's rainforest area, Brazil contains the largest part of this precious ecosystem.
GLOBAL IDEAS asked Brazilian forest activist Pedro Soares to write a guest article for our blog. Pedro stresses that we can only protect the Amazon by providing an adequate income to those living in the forest.
By Pedro Soares
The Brazilian Amazon area covers about 50 percent of Brazil's territory. That is a total an area of 4,196,943 square kilometers.
The biggest stock of tropical forest in the world has always been seen as a barrier to regional economic development. In fact, deforestation occurs mainly due to an economic rationale: the forest does not provide sufficient income for landowners and forest dwellers, when compared to the income they could obtain for more profitable activities such as logging, agriculture or cattle ranching. But the lack of an economic value for the stand forest is the main caveat towards the promotion of forest conservation policies and programs.

read more
Tags
Amazon
,
americas
,
Brazil
,
carbon dioxide
,
climate
,
climate change
,
CO2
,
idesam
,
latin america
,
pedro soares
,
rainforest
,
REDD
,
rio de janeiro
,
Rio+20
,
South America
Taking Back the Forest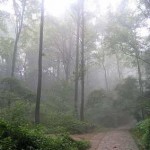 Are forests back on the rise? The latest study from the UN Food and Agriculture Organization (FAO) shows the rate of forest loss is actually slowing down, surprisingly enough. That's mainly thanks to a push to plant–rather than cut down–forests in Asia.
According to the State of the World"s Forests 2011 report, the rate at which the planet's forests are being cut down decreased from 8.3 million hectares a year between 1999-2000 to just 5.2 million over the last decade. And, the UN says the world's forest regions could even start expanding in the near future!
China has focused on a big reforestation project, which includes increasing the country's forested land area from 120 million to 200 million hectares. There's just one small problem, according to the FAO: a lot of that new growth will likely be "junk" forestation because it won't have the same carbon storage value as existing forests. Plus, a lot of valuable forest land is still being razed at a very high rate in South America and Africa.
What about in your region? Is your home country planting or cutting down–and have you noticed any changes?
Tags
Asia
,
carbon storae
,
China
,
cut down
,
FAO
,
Food and Agriculture Organization
,
forests
,
junk
,
loss
,
plant
,
report
,
South America
,
UN