Search Results for Tag: ARD
Market roundup: March 2016
Europe
DW (Arabia 2) has been broadcasting DW's Arabic programming for Arabic-speaking audiences in Western Europe via satellite partner SES Astra since December. Specially developed news and educational programming from German public broadcasters ARD and ZDF is now also being included on the channel. Target viewers for DW (Arabia 2) are Arabic-speaking refugees and immigrants currently in Western Europe who can benefit from independent journalism and important cultural information.
South America
Brazilian TV broadcaster Climatempo will be carrying DW's Futurando and Camarote.21 starting in April 2016and available with providers like SKY, GVT, Oi and Samsung TV apps. Climatempo's technical range of 9 million households will significantly increase the presence of  these regionally tailored programs in Brazil. Climatempo's website will also be integrating DW's Portuguese for Brazil online content.
Africa
DW is increasing its presence in West Africa with numerous new partnerships in Niger and Burkina Faso. In Niger, TV Anfani is now broadcasting DW's English channel. The expanded partnership also marks 20 years of broadcasting cooperation, beginning in 1996 between Radio Anfani and DW. Additionally, Shukrah FM and Radio Kaocen are now broadcasting DW's Hausa and French radio programming to radio listeners in Niger. In neighboring Burkina Faso, the TV provider Burkina Info is now broadcasting DW's English channel. And for the first time in the Loroum region of the country, DW's French radio programming will be available via programming partner Radio La Voix du Loroum.
In South Africa, the motor sports channel Ignition TV and the business news channel Business Day TV from the Times Media Group are now carrying select DW programming.
Tags
ARD
,
Burkina Info
,
Business Day TV
,
Camarote.21
,
Climatempo
,
DW
,
DW Arabia
,
DW French for Africa
,
DW Hausa
,
DW Portuguese for Brazil
,
Futurando
,
Ignition TV
,
SES Astra
,
Times Media Group
,
ZDF
DW elects new Director General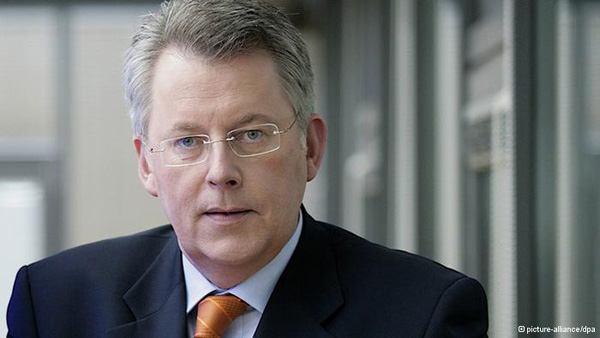 Peter Limbourg will be the new Director General of Deutsche Welle (DW). On March 15, the Broadcasting Board elected the current Senior Vice President of News and Political Information of ProSiebenSat.1 TV Germany as the successor to Erik Bettermann with a clear majority. Bettermann, whose term as DW's Director General will officially end on September 30, 2013, has been in charge of Germany's international broadcaster since 2001.
"Together with my colleagues, I hope to further enhance Deutsche Welle's journalistic standing and its multilingual and multimedia programming. Intensifying DW's cooperation with Germany's public service broadcasters ARD and ZDF is another goal I have set myself," said Limbourg.