Search Results for Tag: DW Portuguese for Brazil
Market roundup: March 2016
Europe
DW (Arabia 2) has been broadcasting DW's Arabic programming for Arabic-speaking audiences in Western Europe via satellite partner SES Astra since December. Specially developed news and educational programming from German public broadcasters ARD and ZDF is now also being included on the channel. Target viewers for DW (Arabia 2) are Arabic-speaking refugees and immigrants currently in Western Europe who can benefit from independent journalism and important cultural information.
South America
Brazilian TV broadcaster Climatempo will be carrying DW's Futurando and Camarote.21 starting in April 2016and available with providers like SKY, GVT, Oi and Samsung TV apps. Climatempo's technical range of 9 million households will significantly increase the presence of  these regionally tailored programs in Brazil. Climatempo's website will also be integrating DW's Portuguese for Brazil online content.
Africa
DW is increasing its presence in West Africa with numerous new partnerships in Niger and Burkina Faso. In Niger, TV Anfani is now broadcasting DW's English channel. The expanded partnership also marks 20 years of broadcasting cooperation, beginning in 1996 between Radio Anfani and DW. Additionally, Shukrah FM and Radio Kaocen are now broadcasting DW's Hausa and French radio programming to radio listeners in Niger. In neighboring Burkina Faso, the TV provider Burkina Info is now broadcasting DW's English channel. And for the first time in the Loroum region of the country, DW's French radio programming will be available via programming partner Radio La Voix du Loroum.
In South Africa, the motor sports channel Ignition TV and the business news channel Business Day TV from the Times Media Group are now carrying select DW programming.
Tags
ARD
,
Burkina Info
,
Business Day TV
,
Camarote.21
,
Climatempo
,
DW
,
DW Arabia
,
DW French for Africa
,
DW Hausa
,
DW Portuguese for Brazil
,
Futurando
,
Ignition TV
,
SES Astra
,
Times Media Group
,
ZDF
Market roundup: September 2015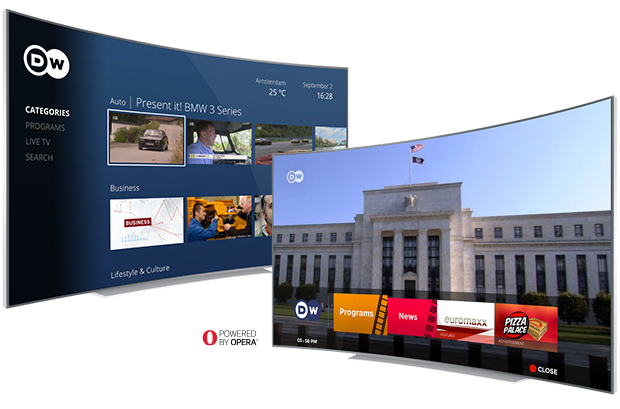 Digital
DW is one of the first broadcasters to make use of the latest in OTT services from Opera. In selecting Opera TV Snap for broadcasters, DW will leverage the latest version to enable users to access multilingual DW live programming and on-demand content, all from the comfort of their sofas. Viewers can access these services through the Opera TV Store app platform, available on tens of millions of devices from over 15 global manufacturers. Opera TV Snap providea broadcasters with expanded OTT capabilities on Smart TVs, including a ready-to-deploy Hybrid Broadcast Broadband TV (HbbTV) solution to drive seamless interactivity on linear TV.
"DW is committed to bring engaging content to our viewers. We're excited to upgrade our Smart TV offering by utilizing the latest version of Opera TV Snap. We've found this path to be convenient in reaching Smart TV and HbbTV audiences," says Petra Schneider, Director of Sales and Distribution at DW.
South America
Portuguese content from DW is now available on smart TVs, tablets and smartphones in Brazil via Moony, the new streaming platform from Samsung available for download on the Google Play Store or Galaxy Apps. DW has an exclusive place among 40 content providers that are on board for the roll out of the service. Moony users in Brazil have instant access to the latest episodes of popular DW shows like Futurando and Camarote.21 along with Portuguese content from DW Transtel including EinSteinchen ,Ecopia or From Tierra del Fuego to Tijuana.
Asia
DW has a new partner in Sri Lanka. The sports, lifestyle and business channel Carlton Sports Network (CSN) has aquired four DW shows including Drive it and In Good Shape. CSN reaches an estimated 2.5 million households in Sri Lanka.
DW's Pakistani partner ATV is now broadcasting a DW news bulletin during prime time. The channel is the largest private television network in Pakistan, serving all major cities and commercial centers.
Tags
ATV
,
Brazil
,
Camarote.21
,
Carlton Sports Network
,
DW Portuguese for Brazil
,
DW Transtel
,
Futurando
,
Moony
,
Opera TV Snap
,
Pakistan
,
Samsung
,
Sri Lanka
Market roundup: July 2014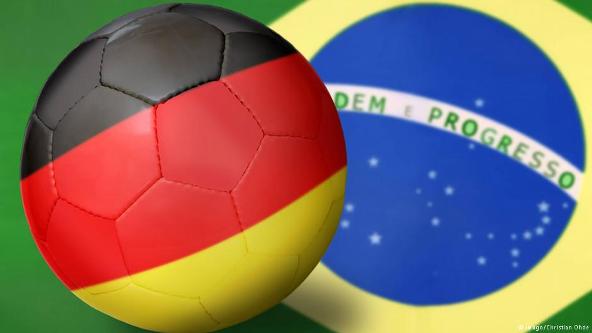 South America
News and information from DW Portuguese for Brazil is now being featured on UOL (Universo Online SA), Brazil's largest online portal and the world's largest Portuguese-language news and information platform. After a recent cooperation agreement, UOL will now include a full-text DW feed on the website. The cooperation has the potential to greatly increase DW's online audience – UOL boasts 29,8 million unique visitors and 4,2 billion page views every month along with 4.1 million Facebook fans.
Africa
DW news content in six languages for Africa will soon be able to reach a potential 900,000 users via BiNu– an application that allows low-tech or "feature phones" to have quick and easy access to the Internet. Target regions include Nigeria, Kenya, South Africa, Ghana, and especially, Ethiopia and Zimbabwe.
Asia
CTH, the Thai television provider and DW broadcasting partner, has increased its range of service and is now broadcasting via the Vinasat 2 satellite. The expansion will deliver CTH's international programming package, which includes the English-language channel, DW, to 10,000 additional subscribers along with the millions of current cable subscribers. CTH is also planning to start a DVB-T service later this year which could reach a potential of one million new customers.  DW has been carried on CTH's digital cable network since July 2013.
The Vietnamese cable provider, HCA TV, is once again broadcasting DW after an extended interruption in service. DW programming will be rebroadcast on the provider with Vietnamese subtitles.
The Taiwanese online news and information portal, Commonwealth, will now be including full-text DW content in Chinese. It is the first such cooperation outside of mainland China and will include reports from business, the environment, sports and education.
Europe
T24, the Turkish online news portal, is a new DW partner and will now be prominently placing full-text Turkish language articles from DW on the website. T24 is renowned for independent and quality journalism in an increasingly draconian Turkish media landscape, having won an award from the Turkish Journalists Society in 2010.  It is one of the most-quoted online sources in Turkish media and features content from more than 30 prominent authors and journalists.
Online
DW is now on Instagram with Inside DW, a new part of DW's customer service website, MyDW, which features a look behind the scenes at the work of DW's journalists, producers and correspondents.
Tags
BiNu
,
Commonwealth
,
CTH
,
DW
,
DW Chinese
,
DW Portuguese for Brazil
,
DW Turkish
,
HCA TV
,
Inside DW
,
MyDW
,
T24
,
UOL