Search Results for Tag: Kino
DW goes behind the scenes at the Berlinale film festival

For the grand finale of the 68th Berlinale film festival in Berlin on Saturday, DW's German-language programming on DW (Deutsch) and DW (Deutsch+) broadcast 24 hours of film specials and live reports.
The Berlinale is one the world's most renowned film festivals, and culminates every year with a winning film receiving the "Golden Bear" award.
The awards ceremony was broadcast on DW (Deutsch) and DW (Deutsch+) Saturday evening (CET), including interviews with some of the biggest names in German cinema.
Throughout the day, DW's arts and culture shows Kultur 21, KINO and Euromaxx aired features that unveiled secrets of the German film industry and introduced audiences to legendary films like Manche mögen's heiß and Die Ehe der Maria Braun. DW's travel show Check-in featured the history of the Berlinale along with a tour of Berlin's famous Babelsburg studio.
And even after this movie marathon, DW's programming freuqently covers trends and highlights from the German film industry. Check out our programming schedule for more information.
Market roundup: April 2016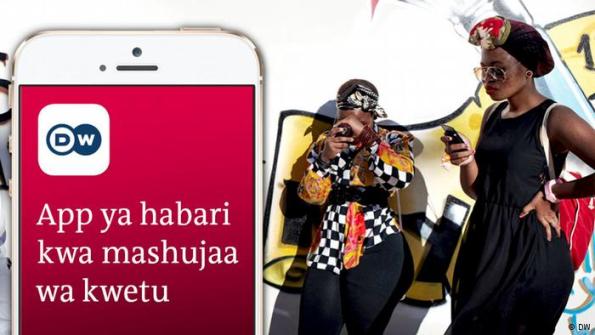 Online
DW's online news content is now available in 20 languages on the news aggregator app Google Newsstand. Video content, where available, is also included as a YouTube channel along with the full-length news reports. Previously, DW had only been available in English on Google Newsstand.
The news app Bundle now includes content from DW Turkish. The app, which was developed in Turkey, provides users with news coming from 4,000 sources in 28 countries. Released in 2014, the app generates around 3.5 million visits every month.
Africa
DW has increased its reach in Kenya with a series of expanded partnerships. Hope Channel Kenya and Ebru Africa TV, both with nationwide broadcasting coverage, are now carrying a wide-selection of DW's English television programming. Shine FM, a radio station based at Daystar University in Nairobi, is now broadcasting selected DW radio programming on VHF and livestream in English and Kiswahili. New Kenyan radio partners Wikwatyo FM in Kitui and Kisimaa FM in Kisii are broadcasting DW Kiswahili radio programs like Habari za Africa, Afya, Michezo and Vjana tugutuke.
In Tanzania, DW has also increased television and radio coverage with expanded partnerships. One of Tanzania's largest media companies, AZAM media group, has increased its cooperation with DW and is now broadcasting one hour of DW Kiswahili radio programming every day on its new radio station U-FM. AZAM TV has been carrying a selection of  DW television programs since 2013. Also in Tanzania, Channel Ten from the Africa Media Group Ltd. is a new DW partner. The news and information channel now broadcasts the DW programs Conflict Zone, In Good Shape, Tomorrow Today, Made in Germany, Kick off! and Kino. Channel Ten is available via Intelsat 906 to audiences across Africa.
Asia
DW has a new cable TV partner in Vietnam. NetViet will be broadcasting the English-language programs In Good Shape, Drive it! and Discover Germany. The cable provider reaches 8 million people in Vietnam.
The national television network of Sri Lanka, Sri Lanka Rupavahini Corporation (SLRC), is now broadcasting the DW programs Global 3000, Shift and Treasures of the World. According to their own estimates, Rupavahini reaches more than 4 million households in Sri Lanka.
In Pakistan, DW's English-language channel will be broadcast in its entirety on the basic package of the Karachi-based cable provider East&West Entertainment Cable Network.
Tags
Conflict Zone
,
Daystar University
,
Discover Germany
,
Drive it!
,
DW Kiswahili
,
East & West Entertainment Cable Network
,
Ebru Africa TV
,
GLOBAL 3000
,
Hope Channel Kenya
,
Kick Off!
,
Kino
,
made in Germany
,
NietViet
,
Rupavahini
,
Shift
,
Shine FM
,
Tomorrow Today
,
Treasures of the World
Silver and gold for DW at the World Media Festival
A diverse selection of DW documentaries, specials and series won numerous awards at the 15th World Media Festival in Hamburg this past week. Organized by Intermedia, this year's festival drew 700 entries from 35 countries.
Winning a gold intermedia-globe in the documentary-magazine format category was PopXport Special, a 10-part production from DW's popular music show that showcases some of Germany's most successful recording artists. The Global Ideas web-documentary, Serengeti- Toward an uncertain future, won a gold award in the E-Learning and Education category and the 10-part series, Tracing the past: German-Jewish cultural heritage,  won gold in the Documentaries-Other category. The 28-part Euromaxx series, Europe 28 , which takes a look at all 28 capital cities of the EU,  won a gold award in the documentaries-destinations category as did the music documentary, The Highest Level , in the documentaries-arts category.
Winning a silver intermedia-globe award was the music documentary, The Colón Ring- Wagner in Buenos Aires, in the Documentaries-Arts category and a production from Kino- The German Film Magazine  that explores German film in Brazil and the relationship between the two countries won silver in the documentaries-magazine format category. A report from People and Politics was also awarded silver in the News-Documentary category. It tells the story of children who were abducted by the Nazis in Eastern Europe who as adults are searching for their roots.
The performance at the 2014 World Media Festival in Hamburg comes a few weeks after many DW productions won awards at festivals in Las Vegas and Houston.