Search Results for Tag: Drive it!
Market roundup: June 2018

Europe
Zapovednik, DW's Russian-language, animated political satire, is resonating with Russian audiences and is one of the most viewed videos on DW's Russian partner website Ekho Moskvy. The 12-minute episodes tackle current political issues and put a funny and entertaining spin on important topics. By using animated satire, DW can convey an alternative perspective in the Russian media landscape. DW's partner Ekho Moskvy is a reliable source of independent news in Russia.
Asia
DW's English channel is once again available on the leading Malaysian Pay TV provider ASTRO. Around 1 million subscribers can now access DW on the providers OTT platform Astro Go.
The Vietnamese cable provider HTV-TMS in Ho Chi Minh City is providing DW's English channel to 600,000 subscribers.
DW's partner in Thailand PSI is broadcasting Tomorrow Today, Global 3000, Drive It, In Good Shape and Euromaxx to an estimated 18 million households.
Market roundup: July 2016

Asia
Over 100 hours of high-quality documentary content from DW Transtel have been acquired by the Chinese educational video program supplier "Wuhan Yuanlai Educational", which provides video on-demand for universities and schools across the nation. Now millions of students in China can easily download general knowledge and cultural documentaries from DW Transtel. The English and German-language programming will be provided with subtitles in Mandarin Chinese.
DW's automotive program Drive it! is being now carried by the Indonesian pay TV network K-Vision. The program will be shown with Indonesian subtitles on the "Otomotif" channel, which reaches 450,000 households across the country.
The Pakistani cable television broadcaster, Webcom PTV is now a DW partner and will provide 20,000 subscribers in Islamabad with DW's English channel.
Online
DW is now broadcasting its English channel live on YouTube, thereby becoming one of the first international news channels to make use of this feature.
Online articles in English from dw.com are now being included amongst a wide variety of content from quality international news and information outlets on RealClearWorld. The news website from the USA features coverage, opinion and analysis of current events from around the world. It attracts 5.9 million unique visitors every month.
A consortium of international broadcasters recently met at DW's headquarters in Bonn to discuss internet censorship. The DG 7 Internet Freedom Group brought together experts from the BBC, BBG, FMM, RNW and DW for two days to exchange ideas and discuss the importance of freedom of information online.
Europe
DW's critical talk format Nemtsova.Interview is now being broadcast by NewsOne in the Ukraine. According to Nielsen, NewsOne is ranked amongst the most popular channels in the country.
Tags
BBC
,
BBG
,
DG 7
,
Drive it!
,
DW
,
DW Transtel
,
FMM
,
K-Vision
,
Nemtsova.Interview
,
NewsOne
,
RealClearWorld
,
RNW
,
Webcom PTV
,
Wuhan Yuanlai Educational
Market roundup: April 2016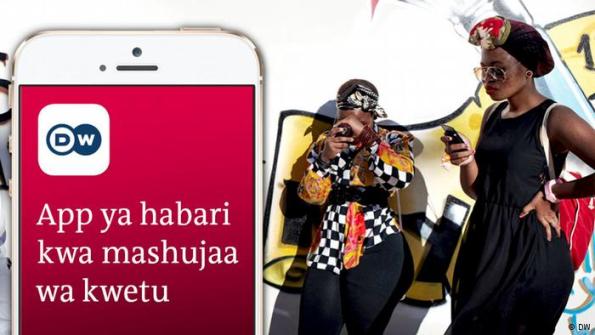 Online
DW's online news content is now available in 20 languages on the news aggregator app Google Newsstand. Video content, where available, is also included as a YouTube channel along with the full-length news reports. Previously, DW had only been available in English on Google Newsstand.
The news app Bundle now includes content from DW Turkish. The app, which was developed in Turkey, provides users with news coming from 4,000 sources in 28 countries. Released in 2014, the app generates around 3.5 million visits every month.
Africa
DW has increased its reach in Kenya with a series of expanded partnerships. Hope Channel Kenya and Ebru Africa TV, both with nationwide broadcasting coverage, are now carrying a wide-selection of DW's English television programming. Shine FM, a radio station based at Daystar University in Nairobi, is now broadcasting selected DW radio programming on VHF and livestream in English and Kiswahili. New Kenyan radio partners Wikwatyo FM in Kitui and Kisimaa FM in Kisii are broadcasting DW Kiswahili radio programs like Habari za Africa, Afya, Michezo and Vjana tugutuke.
In Tanzania, DW has also increased television and radio coverage with expanded partnerships. One of Tanzania's largest media companies, AZAM media group, has increased its cooperation with DW and is now broadcasting one hour of DW Kiswahili radio programming every day on its new radio station U-FM. AZAM TV has been carrying a selection of  DW television programs since 2013. Also in Tanzania, Channel Ten from the Africa Media Group Ltd. is a new DW partner. The news and information channel now broadcasts the DW programs Conflict Zone, In Good Shape, Tomorrow Today, Made in Germany, Kick off! and Kino. Channel Ten is available via Intelsat 906 to audiences across Africa.
Asia
DW has a new cable TV partner in Vietnam. NetViet will be broadcasting the English-language programs In Good Shape, Drive it! and Discover Germany. The cable provider reaches 8 million people in Vietnam.
The national television network of Sri Lanka, Sri Lanka Rupavahini Corporation (SLRC), is now broadcasting the DW programs Global 3000, Shift and Treasures of the World. According to their own estimates, Rupavahini reaches more than 4 million households in Sri Lanka.
In Pakistan, DW's English-language channel will be broadcast in its entirety on the basic package of the Karachi-based cable provider East&West Entertainment Cable Network.
Tags
Conflict Zone
,
Daystar University
,
Discover Germany
,
Drive it!
,
DW Kiswahili
,
East & West Entertainment Cable Network
,
Ebru Africa TV
,
GLOBAL 3000
,
Hope Channel Kenya
,
Kick Off!
,
Kino
,
made in Germany
,
NietViet
,
Rupavahini
,
Shift
,
Shine FM
,
Tomorrow Today
,
Treasures of the World