Search Results for Tag: Conflict Zone
Market roundup: June 2016
North America
DW's global English-language channel is now available in HD quality across North America. Partners in the USA and Canada can directly receive the channel on the SES-3 satellite. Numerous DW programs like Focus on Europe, Global 3000 and DW News will also soon be available in HD on the US public broadcasting network, PBS.
Africa
The Ghanaian broadcaster ABN TV is a new DW partner. Launching in 2013, the broadcaster reaches 10 million households in Africa and Europe via satellite. ABN TV is now broadcasting World Stories, Global 3000, Kick Off! Countdown, Kick Off! Bundesliga Highlights, Documentaries and Reports, In Good Shape and Conflict Zone.
Télé-Chad is now broadcasting a selection of programming from DW (Arabia). Kick Off!, Drive It and Tomorrow Today will now be broadcast both terrestrially and on NILESAT 201.
Asia
The Karachi-based broadband internet provider Connect Communications is a new DW partner in Pakistan. Offering a wide-range of broadband services, their television subsidiary dedear.com is broadcasting DW's English-language channel to 70,000 households.
DW mobile content is now available to 5 million subscribers of Reliance JIO. Reliance is one of India's fastest-growing providers of high-speed mobile connectivity.
Australia
DW's Conflict Zone is now being broadcast on ABC News 24. The flagship news channel from the Australian Broadcasting Corporation reaches a potential 8.6 million households nationwide.
Tags
Australian Broadcasting Corporation
,
Conflict Zone
,
Connect Communications
,
Documentaries and Reports
,
DW
,
DW News
,
Focus on Europe
,
GLOBAL 3000
,
In Good Shape
,
Kick Off Bundesliga Highlights
,
Kick Off- Countdown
,
PBS
,
Tele-Chad
,
World Stories
Market roundup: April 2016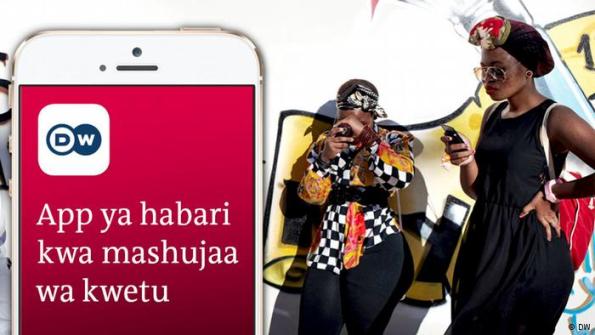 Online
DW's online news content is now available in 20 languages on the news aggregator app Google Newsstand. Video content, where available, is also included as a YouTube channel along with the full-length news reports. Previously, DW had only been available in English on Google Newsstand.
The news app Bundle now includes content from DW Turkish. The app, which was developed in Turkey, provides users with news coming from 4,000 sources in 28 countries. Released in 2014, the app generates around 3.5 million visits every month.
Africa
DW has increased its reach in Kenya with a series of expanded partnerships. Hope Channel Kenya and Ebru Africa TV, both with nationwide broadcasting coverage, are now carrying a wide-selection of DW's English television programming. Shine FM, a radio station based at Daystar University in Nairobi, is now broadcasting selected DW radio programming on VHF and livestream in English and Kiswahili. New Kenyan radio partners Wikwatyo FM in Kitui and Kisimaa FM in Kisii are broadcasting DW Kiswahili radio programs like Habari za Africa, Afya, Michezo and Vjana tugutuke.
In Tanzania, DW has also increased television and radio coverage with expanded partnerships. One of Tanzania's largest media companies, AZAM media group, has increased its cooperation with DW and is now broadcasting one hour of DW Kiswahili radio programming every day on its new radio station U-FM. AZAM TV has been carrying a selection of  DW television programs since 2013. Also in Tanzania, Channel Ten from the Africa Media Group Ltd. is a new DW partner. The news and information channel now broadcasts the DW programs Conflict Zone, In Good Shape, Tomorrow Today, Made in Germany, Kick off! and Kino. Channel Ten is available via Intelsat 906 to audiences across Africa.
Asia
DW has a new cable TV partner in Vietnam. NetViet will be broadcasting the English-language programs In Good Shape, Drive it! and Discover Germany. The cable provider reaches 8 million people in Vietnam.
The national television network of Sri Lanka, Sri Lanka Rupavahini Corporation (SLRC), is now broadcasting the DW programs Global 3000, Shift and Treasures of the World. According to their own estimates, Rupavahini reaches more than 4 million households in Sri Lanka.
In Pakistan, DW's English-language channel will be broadcast in its entirety on the basic package of the Karachi-based cable provider East&West Entertainment Cable Network.
Tags
Conflict Zone
,
Daystar University
,
Discover Germany
,
Drive it!
,
DW Kiswahili
,
East & West Entertainment Cable Network
,
Ebru Africa TV
,
GLOBAL 3000
,
Hope Channel Kenya
,
Kick Off!
,
Kino
,
made in Germany
,
NietViet
,
Rupavahini
,
Shift
,
Shine FM
,
Tomorrow Today
,
Treasures of the World
Market roundup: November 2015
Africa
The news websites Focus Guinée und Guinée Signal are now DW partners for online content in French. The radio stations RTCT, Radio Télévision Communautaire Oasis and Radio Télévision Communautaire Ondese are now DW partners in Congo. They are broadcasting DW's radio program daily in French and Kiswahili.
R2A Radio Azur in Togo is now broadcasting Learning by Ear, as well as the morning and evening shows in French and the evening show in Hausa.
In Cameroon, DW has three new partners for TV and radio. TV+ Cameroun will be including DW's English channel in its portfolio, Canal2 will be broadcasting select programs like Made in Germany and Conflict Zone and CBS will broadcasting radio programs like Learning by Ear and AfricaLink.
UTV Ghana and Light TV are now DW partners as well, broadcasting programs like Kick Off! and Business Brief. Also in Ghana, Vision 1 is now broadcasting DW's radio program AfricaLink as part of its lineup.
North America
DW is now working with MHz Networks in North America to distribute the English channel DW. MHz will now be broadcasting a three-hour block of DW from 15:00 to 18:00 (Eastern Time), which is picked up by DirectTV, more than 31 PBS stations and many other cable networks. It's available in markets like New York, Los Angeles and Chicago and reaches more than 40 million households.
Online
DW will be one of the first media companies to be included in Apple News with its own channel. The app has been included in the iOS9 launch.
Asia
The Indonesian website kompas.com is a new DW partner. Kompas will be integrated DW's online content in Indonesian to its portfolio. It's the 11th most popular website in Indonesia with 20 million active users and 40 million page impressions per month.
Europe
As part of a new coproduction, DW's award-winning lifestyle program Euromaxx is now available in Lithuanian and broadcast on the public broadcaster LRT. DW's Arts.21 is also being produced and broadcast by LRT in Lithuanian.
Tags
AfricaLink
,
Cameroon
,
Conflict Zone
,
DW
,
euromaxx
,
Ghana
,
Indonesia
,
Kiswahili
,
Kompas
,
Lithuania
,
LRT
,
Tim Sebastian
,
Togo