Search Results for Tag: Bengali
Market roundup: January 2015
Online
DW news in 12 languages are included in the newly-launched MSN news apps. This makes online content from DW not only available on all Windows mobile handsets and msn.com, but also expands the reach to iOS and Android devices.
Asia
Onneshon is now available in India and Bangladesh. The science show that is broadcast in Bengali will be made available in Eastern India on Doordarshan Bangla (DD Bangla).
Europe
A weekly version of Euromaxx is now being produced and broadcast in Ukrainian. The new adaptation of the classic show is being produced in cooperation with ZIK-TV, with which DW has been working with since the beginning of 2014. ZIK-TV also rebroadcasts Geofaktor and Focus on Europe.
South America
The culture magazine Camorote.21 is now being broadcast nationwide in Brazil by TV Brasil. The public broadcaster is part of the EBC (Empresa brasileira de comunicação) and focuses on informational and cultural programming.
Market roundup: August 2013
Africa
DW is gaining ground in French-speaking Africa. Radio Kledou in Mali has been broadcasting DW's French programming since the beginning of 2013 and continues to attract more and more listeners. It is broadcast from the capital city of Bamako and is also available in Sikasso, Kayes and Ségou.
DW has also signed new online partners in Mali (www.info-mali.com), the Ivory Coast (www.rj24.info), Cameroon (www.equinoxetv.com), Guinea (www.bolivar-fm.com) and Burkina Faso (www.mutationsbf.net).
Latin America
DW's partnership with Folha – the largest news portal in Brazil – has been paying off. In July, DW's content that is featured on the website generated 77,000 visits. DW has been working with Folha since 2006 and the partnership was expanded this May. DW's editorial team delivers news and content daily which is then featured on a DW page on the Folha website, as well as being listed in the different sections.
Europe
DW's video of the day is now being featured on the video platform Megogo.net. The videos appear in the main "News" category and are linked to the Russian or Ukrainian website at dw.de. Megogo logs about 13.5 million visits per month. Around 70 percent of its 16,000 hours of video content is free of charge and can be accessed online, via mobile devices and apps as well as by using SmartTV applications.
Asia
With PSI, DW has a new partner in Thailand. PSI is known as the knowledge channel and has programming that covers everything from wildlife and nature to technology, history and archeology. PSI is broadcasting Euromaxx daily and is available to 12 million households in Thailand.
Another TV network has added DW's Indonesian science and technology magazine Inovator to its lineup. B-Channel has more than 20 regional TV stations in Indonesia and reaches around 75 percent of the terrestrial television market.
Online
DW expanded its Media Center this past month to include photos, audio and video content in an additional 10 languages, including: Bengali, Croatian, Dari, French, Greek, Indonesian, Macedonian, Pashto, Polish and Urdu. DW's Media Center now offers content in a total of 25 languages.
Tags
Bengali
,
Burkian Faso
,
Cameroon
,
Croatian
,
Dari
,
euromaxx
,
French
,
Greek
,
Indonesian
,
Macedonian
,
Mali
,
Media Cener
,
online content
,
Pashto
,
Polish
,
PSI Thailand
,
Urdu
'Onneshon' premieres on Ekushey TV in Bangladesh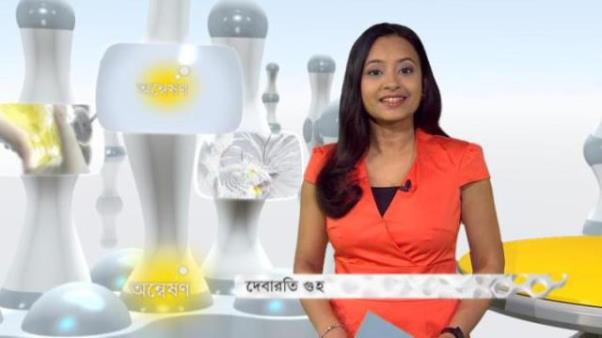 Another first for DW: We will be broadcasting our first television series in Bengali starting April 13, 2013: Onneshon will cover science, technology, the environment and medicine and will be shown every Saturday at 6:30 pm as well as Sunday at 1:30 am and 3:30 pm on Ekushey TV in Bangladesh. Onneshon is produced by DW's Bengali team in Bonn and will be hosted by DW's Debarati Guha.
In addition to presenting the latest scientific developments, our reporters will also report on the different aspects of everyday life in Germany and comment on the sometimes surprising differences between Germany and South Asia. Multimedia content from the series will also be available online at www.dw.com as well as being distributed by DW's online partners.
Ekushey TV is one of Bangladesh's most popular private TV stations, with programming available via cable and satellite. It provides television services to more than 32 million homes in Bangladesh. Ekushey was the first Bangladeshi TV channel to broadcast content via live stream, which is available online at www.ekushey-tv.com.