Search Results for Tag: 2014 Global Media Forum
How to create democracy and promote development with digital media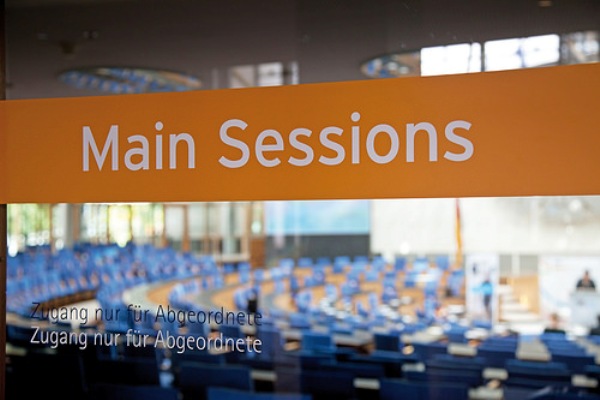 Digital media is changing the world and giving more people everywhere the chance to have their voices heard and participate in social processes. This year's Global Media Forum will explore the complex diversity of these issues along with experts, policy makers and interested guests from all over the world. With so much to choose from, we wanted to highlight some events and partners that you should look for at this year's conference.
A session hosted by the German Development Institute titled, Transcultural understandings of legitimacy: A pre-condition for global governance?, will explore the effectiveness of international institutions in achieving legitimacy on the ground in the different countries and cultures where they operate. The focus will be on increasing trans-cultural dialogue in order to create common values and common solutions.
The Friedrich Naumann Foundation for Freedom is hosting a panel discussion that will explore how social media is helping foster democracy around the world. The session titled, The role of (social) media in promoting and sustaining democratic governance, features guest experts from Lebanon, Egypt, India and Myanmar who will discuss how social media initiates and even stabilizes processes of social change.
A plenary discussion hosted by ASHOKA titled, Room for all? How social entrepreneurs in media are forging a new infrastructure for participation,  explores the changing structure of global media. The discussion focuses on the role of the media and audience in light of digital media and where the traditional information power structure is changing to allow for the creation of a new public sphere. Challenges will be introduced like finding new audiences and financing, how to bring in new participants and ways to create new "information communities."
A talk hosted by Voices of Africa Media Foundation will feature a case study from Nairobi, Kenya that provided young people living in the cities slums the chance to become reporters. The talk titled, A case study in enabling residents from informal settlements to participate in decision-making, will showcase some results from the project which provides an example from Africa for how disadvantaged people can make their voices heard.
A workshop hosted by Wartburg College titled, A blueprint for building communities: Applying community-building practices to a news media company," will explore how the traditional business a model has changed for big news organizations and how they can adopt practices from social media to increase their relevance and attract new audiences.
And that is not all! There is much more to see and learn at the 2014 Global Media Forum. The conference starts Monday June 30 and you can follow the events with live updates on Twitter and Facebook or on the press website.
Tags
2014 Global Media Forum
,
ASHOKA
,
bonn
,
Deutsche Welle
,
digital media
,
DW
,
Friedrich Neumann Foundation
,
German Development Institute
,
Germany
,
Media Event
,
Participation and Governance
,
Voices of Africa Media Foundation
,
Wartburg College
Using mobile technology in creative ways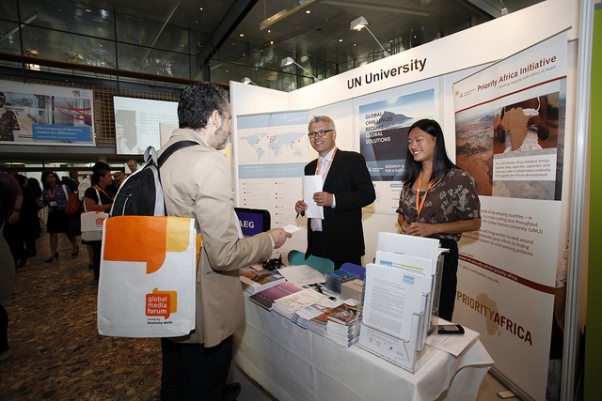 Digital and mobile technology is changing the world but some effects may be less obvious than what you see every day. A selection of talks and presentations from niche companies to big telecoms will cover some innovative trends and techniques at the 2014 Global Media Forum.
A presentation hosted by big-data experts, Flowminder, and the United Nations University – Institute for Environment and Human Security (UNU-EHS), focuses on how collecting and analyzing mobile data can be used in determining the extent and real effects of mass displacement following major environmental catastrophes. The presentation titled Big data, big insights: Mapping climate-induced displacement with mobile data, takes a unique look at how mobile data can be used to get accurate assessments of where people go, if they return and if proper aid is being provided to affected areas. The group will present the results of data analysis from five million anonymous cell phone users in the wake of Cyclone Mahasen that struck Bangladesh in May 2013.
Also exploring the effects of mobile technology on society and social development is a discussion hosted by the Vodafone Institute for Society and Communication titled, M-powering society: How mobile technology is changing society. The panel will discuss how mobile technology is being applied to create mobile health, mobile education and mobile government, emphasizing what makes mobile solutions more effective and the positive impact of mobile technology in developing areas of the world.
A talk hosted by the Grimme Institut will cover how digital technology is changing the way people express themselves and share narratives. The session titled See YOU in the future – new ways of digital storytelling, looks at how digital technology has given everyone a voice and has broken down social and cultural barriers. The discussion will explore future tools and platforms and introduce how digital stories are used in different areas of society.
In the final installment next week before the Global Media Forum begins, we will highlight some events covering the main issue at the conference – how digital technology is enabling increased participation in media and governance.