Search Results for Tag: RNW
Market roundup: July 2016

Asia
Over 100 hours of high-quality documentary content from DW Transtel have been acquired by the Chinese educational video program supplier "Wuhan Yuanlai Educational", which provides video on-demand for universities and schools across the nation. Now millions of students in China can easily download general knowledge and cultural documentaries from DW Transtel. The English and German-language programming will be provided with subtitles in Mandarin Chinese.
DW's automotive program Drive it! is being now carried by the Indonesian pay TV network K-Vision. The program will be shown with Indonesian subtitles on the "Otomotif" channel, which reaches 450,000 households across the country.
The Pakistani cable television broadcaster, Webcom PTV is now a DW partner and will provide 20,000 subscribers in Islamabad with DW's English channel.
Online
DW is now broadcasting its English channel live on YouTube, thereby becoming one of the first international news channels to make use of this feature.
Online articles in English from dw.com are now being included amongst a wide variety of content from quality international news and information outlets on RealClearWorld. The news website from the USA features coverage, opinion and analysis of current events from around the world. It attracts 5.9 million unique visitors every month.
A consortium of international broadcasters recently met at DW's headquarters in Bonn to discuss internet censorship. The DG 7 Internet Freedom Group brought together experts from the BBC, BBG, FMM, RNW and DW for two days to exchange ideas and discuss the importance of freedom of information online.
Europe
DW's critical talk format Nemtsova.Interview is now being broadcast by NewsOne in the Ukraine. According to Nielsen, NewsOne is ranked amongst the most popular channels in the country.
Tags
BBC
,
BBG
,
DG 7
,
Drive it!
,
DW
,
DW Transtel
,
FMM
,
K-Vision
,
Nemtsova.Interview
,
NewsOne
,
RealClearWorld
,
RNW
,
Webcom PTV
,
Wuhan Yuanlai Educational
Market roundup: November 2014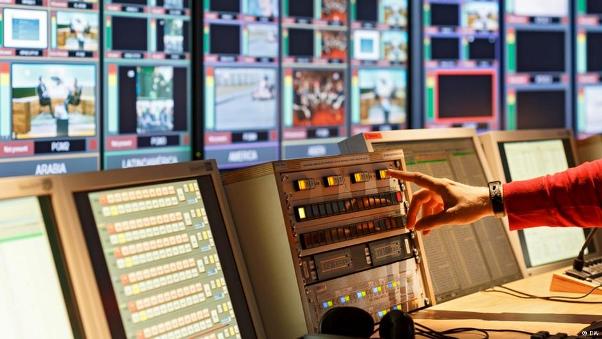 Online
DW has expanded cooperation with Microsoft. Full-text DW articles in 12 languages now complement the rich variety of news content available on msn.com, Microsoft's global news and information platform. The expansion to msn.com is an improvement on DW's current cooperation with Microsoft's Bing News; with better website functionality featuring prominent links to DW online content and advertising potential via a free promo banner that can be adapted to target languages.
Online articles from DW English are now being included on "The Most", a new online news aggregator developed by The Washington Post. The platform aims to improve user experience with online news by "gathering the most engaging stories from a broad array of top news sources." The Washington Post boasts 30 million visitors to its website each month.
DW was among a group of international broadcasters meeting in Paris this month to discuss issues surrounding internet censorship. Participants shared ideas on using censorship circumvention systems and discussed possibilities for closer cooperation. Broadcasters at the meeting included VoA, RFA, BBC, RFI, France24 and RNW.
DW is working in cooperation with Fraunhofer IAIS, dpa-inforcom and Neofonie on an innovation project called News-Stream 3.0, which will aggregate big data for journalists. The project develops software tools which make thousands of content sources easy to iuentify and use in newsrooms.
DW content will now be available on Amazon Fire TV and Smart TVs after a new agreement with the Opera Store.  Video-on-demand content in German, English, Spanish and Arabic will now be available on over 300 TV models and BluRay Players.
Asia
DW has a new partner in the Philippines. The IPTV provider SKYTEL will include DW's flagship English channel, DW, in its programming package. Skytel began operations at the beginning of October and in its first year plans to reach 100,000 subscribers in the Quezon City/Manila metropolitan area.
DW has a new cable TV partner in Pakistan. OK Cable Network, located in the northern city of Nowshera, will deliver DW to around 10,000 households in the region.
North America
Audionow, a leading "call-to-listen" platform in the USA now features DW audio content in English, French, Hausa, Kiswahili, Portuguese and Amharic. Users access content with a telephone by calling a language-specific number.  The service aims to provide diaspora communities with radio news covering their home countries in their native languages.
Europe
DW will now be cooperating closely with the Ukrainian international broadcaster, UTR, after a memorandum of understanding was arranged between the directors of both broadcasters. Media training seminars provided in cooperation with DW Akademie are already in planning.  DW also plans to lend technical expertise and provide video content to UTR in English, Russian and Ukrainian. Additionally, UTR has expressed interest in acquiring journalistic content from DW. UTR was founded 12 years ago and focuses primarily on television production.
DW has a new Russian-language broadcasting partner based in Israel. Channel 9 broadcasts programming to Russian-speaking audiences in Israel via cable and satellite in Germany, North America and Australia.Also called Israel Plus, Channel 9 will now be broadcasting DW cultural programs Arts.21 and Euromaxx Highlights along with the science and environment formats Tomorrow Today and Global 3000. Online news and articles from DW are also to be included on the new partner's website.  Channel 9 reaches the largest Russian-speaking television audience outside of Russia.
Tags
Amazon Fire
,
Audionow
,
BBC
,
Bing News
,
Channel 9
,
DW English
,
DW-AKADEMIE
,
France24
,
Israel Plus
,
Market roundup
,
Microsoft
,
Opera Store
,
RFA
,
RFI
,
RNW
,
Russian
,
SKYTEL
,
The Most
,
The Washington Post
,
UTR
,
VoA
DW and RNW intensify cooperation
Deutsche Welle (DW) and Radio Netherlands Worldwide (RNW) signed a Memorandum of Understanding on Wednesday, June 1 in Berlin, outlining intensified cooperation in the future on Chinese, Indonesian and Arabic radio programming. Director General Erik Bettermann signed for Germany's international broadcaster alongside Director General Jan Hoek from The Netherlands.
Bettermann said that this agreement symbolizes a "historical moment". Bettermann added that it is important to both broadcasters – especially with regards to the historical experiences in both countries – to work in the heart of Europe to solidify their shared values such as freedom of the press, human rights and democracy around the world.
Hoek pointed out that free access to information is an especially important good.  DW and RNW will be focusing their cooperation on Chinese, Indonesian and Arabic programming. The two will exchange links to each other's websites and use cross promotion in their programming. New forms of cooperation should also be developed in the future. The cooperation should also be expanded to distribution. The goal is to reach each of the target audiences better.