Kids, POPS and Arctic Science
Norway, believe it or not, is having problems recruiting scientists and qualified personnel for the Arctic. The generous education system attracts plenty of foreign students, it seems. But there is a lack of Norwegian PhD students. Not that the country doesn't welcome foreign students, but understandably they would like to have people who stay on in the Norwegian Arctic as well as those who take their qualifications back home to wherever. For that reason, the Arctic Frontiers conference and APECS, the Association of Polar Early Career Scientists decided to "start them young" and invited pupils from two local schools to an Arctic science workshop in the planetarium of the Tromso Science Centre, the country's northernmost. As I arrived, I found myself overtaken by youngsters rushing down to have a look at the gadgetry and a hands-on shot at scientific experiments. This is the kind of place that interests young people in the workings of nature and technology.
Kirsten and Ida talked to me (in English, great language skills) about their project. They had made a poster of the type displayed at scientific conferences. Their subject: Persistant Organic Pollutants, POPs. They told me the increasing concentration of these up here in the remote Arctic environment is something that worries them.
The posters are entered in a competion, with awards and attendance at next year's big Arctic conference event awaiting the winners. The girls were reserving judgement about whether Arctic science would be their future careers. But they were willing to give it due consideration and looking forward to the "science show" at the planetarium. Let's see which pupils turn up here again next year!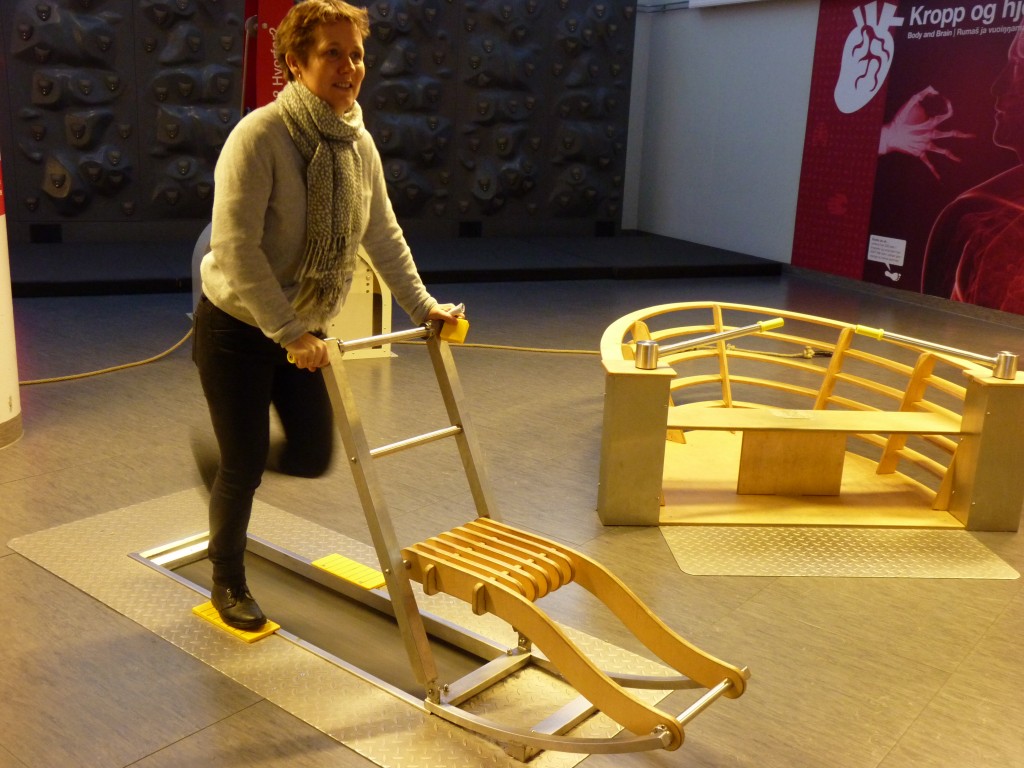 Centre Director Tove Marienborg demonstrates the energy involved in using the "Spark" or kick-sled.
Date
January 24, 2014 | 12:20 pm