Search Results for Tag: Satellite
Can environmentalists trump Trump's climate plans?
When it comes to the latest data on the state of the Arctic sea ice, the Greenland ice sheet or other key features of the cryosphere, the chances are NASA will have been involved in providing it. For those of us interested in protecting our icy regions against climate change, US President-elect Donald Trump's plan to scrap NASA's climate research and shift the funding to space exploration is alarming, to say the least.
Why the world needs NASA – not just for space
Two of my colleagues at DW talked to leading scientists about Why Trump scrapping NASA climate funding is bad news for our planet. Thomas Hollands from the German polar agency the Alfred Wegener Institute explains the essential role played by NASA's network of satellites in providing data for climate researchers the world over.
"Scientists around the world depend on NASA for a variety of information – from measuring the state of the Earth's atmosphere and the shape of its gravity field, to observations on glacier melting, sea ice formation, forest loss and urban growth", the article says. It goes on to explain how important it is to have continuous measurements over time to be able to establish trends and changes.
Presumably, of course, if the Trump administration makes good on election promises to revive the US coal industry, there are those who would find it advantageous to get rid of any technology that can measure the extent of the impact of fossil fuel emissions on the world's climate. A scenario to be avoided at all costs.
Fighting back
So I was interested to read a piece on the news agency AP this week headlined "Trump rollback of Obama climate agenda may prove challenging".  I hope "challenging" will turn out to be an understatement.
The story, by Michael Biesecker, says a President Trump would be in a strong position to dismantle some of President Obama's efforts to reduce carbon emissions:
"But experts say delivering on campaign pledges to abolish the Environmental Protection Agency and bring back tens of thousands of long-gone coal mining jobs will likely prove far more difficult for the new president", Biesecker writes.
Environmental groups are gearing up to defend Obama's environmental legacy in court. Sierra Club Executive Director Michal Brune is quoted as saying "we intend challenging every single attempt to roll back regulations on air, water and climate", and that his group is already hiring additional lawyers. It does not surprise me that fundraising for environmental causes has also spiked since Donald Trump's victory.
The question is just how much the President is able to do and what tools are available to opponents to stop him.
The powers of the President
Many legal experts believe Mr. Trump would be able to cancel the Paris Climate Treaty, as he threatened to do when he was campaigning (although his stance has shifted slightly in the meantime). It is not a treaty and was not approved by the (Republican-controlled) Senate. The future president could also order the EPA – where the transition team is being led by a climate skeptic leading a think-tank funded by the fossil fuel industry – not to take the action required to meet the US commitment to cut emissions.
It seems, though, that it is not that easy to dismantle EPA regulations which have already been finalized and implemented. Jody Freeman, director of the environmental law program at Harvard Law School, is quoted as saying "the agency has already built up a very strong record to support those rules". Ultimately, "it can be very hard to do an about-face."
From the legal point of view, the President cannot get rid of the EPA without congressional approval – which could be prevented by filibustering. (He could, of course, slash its budget).
When it comes to abolishing NASA'S climate research programme, Mr Trump will also find himself facing some tricky hurdles.
"NASA's study of earth science is currently mandated by federal law, which means voiding the program would require congressional action", AP writes. That too means Democrats could block things using a filibuster.
What happened to common sense?
Ideally, common sense and concern for the wellbeing of people and the health of the planet we live on should ensure that Obama's environmental and climate policies are not turned around. The advances in renewable energy also mean it makes economic sense to shift away from fossil fuels to wind and solar. In fact, it seems the courts will have to tackle the ins- and outs in lengthy and costly investigations.
This past week, in the USA, a group of American youths officially won the right to sue the government of the United States – the world's second-largest greenhouse gas emitter after China – for failing to curb climate change. The Oregon district court upheld the main argument, that "the government has known for more than 50 years that the carbon dioxide produced by burning fossil fuels was destabilizing the climate system in a way that would significantly endanger plaintiffs, with the damage persisting for millennia." Yet, the court argues, the government has failed to take action, making it responsible for some of the harm caused by climate change.
Here in Germany, there is also a court case in process, which could set a precedent. A farmer and mountain guide in the Peruvian Andes is suing the German energy giant RWE. Saúl Lliuya from Huaraz says his home is at risk of flooding, as it lies beneath a melting glacier in the Andes mountains. He argues that the company's coal power emissions contribute to climate change, and so RWE should have to pay a share of measures to protect his home. But RWE says there is no direct link connecting CO2 emissions to the danger of flooding. Lliuya is being supported by the environmental organization Germanwatch. In my Living Planet radio show this week I broadcast an interview with the organisation's policy director, Christoph Bals.
The plaintiff's argumentation is that because RWE has produced 0.5 percent of all global emissions since the industrial revolution, the company should at least pay 0.5 percent of the measures to protect the farmer and his home town from flooding as the glacier above it continues to melt. Bals sees it as a major achievement that the case is being dealt with in the German court as one that could set a precedent. Even if the lawyers are not able to prove a direct link and win the case, he says getting to this stage is a demonstration that it is possible to go to court against companies like RWE on climate grounds.
"From now on this is one of the options on the table. I am sure that as soon as we see in the world that we will not stay below two degrees or 1.5 as said in the Paris Agreement, those cases will be much more likely – and it will be much more likely also that the individual court will decide you are right. So for the future this would be one major option if we don't get a political solution".
There has to be some food for thought in there for Mr. Trump and his advisors. Interesting times, indeed. And environment and climate advocates have their own trump cards in their hands.
Date
December 2, 2016 | 2:44 pm
Norway's Polar Satellite Centre
Polar orbit satellites monitor what's happening at the ends of the planet – and, of course, the regions in between. Ice conditions, land movement, shipping, pollution – but how does that information actually make its way to the scientists and authorities who evaluate it and use it as a basis for all kinds of decisions?
During my recent visit to Arctic Norway, I had the chance to visit a facility that plays a key role in collecting and disseminating satellite data on the polar regions. On the outskirts of Tromso, Norway's "Gateway to the Arctic", there is a satellite ground station, run by KSat, or Kongsberg Satellite Services AS. It is a Norwegian commercial company which provides ground station and earth observation services for polar orbiting satellites. With three interconnected polar ground stations: Tromsø at 69°N, Svalbard (SvalSat) at 78°N and Antarctic TrollSat Station at 72°S, combined with a mid-latitude network of stations in South Africa, Dubai, Singapore and Mauritius, KSAT operates over 70 antennae positioned for access to polar and geostationary orbits.
The Tromso station has contact to 85 satellites every day, and every month the station monitors some 15,000 passes of these satellites overhead.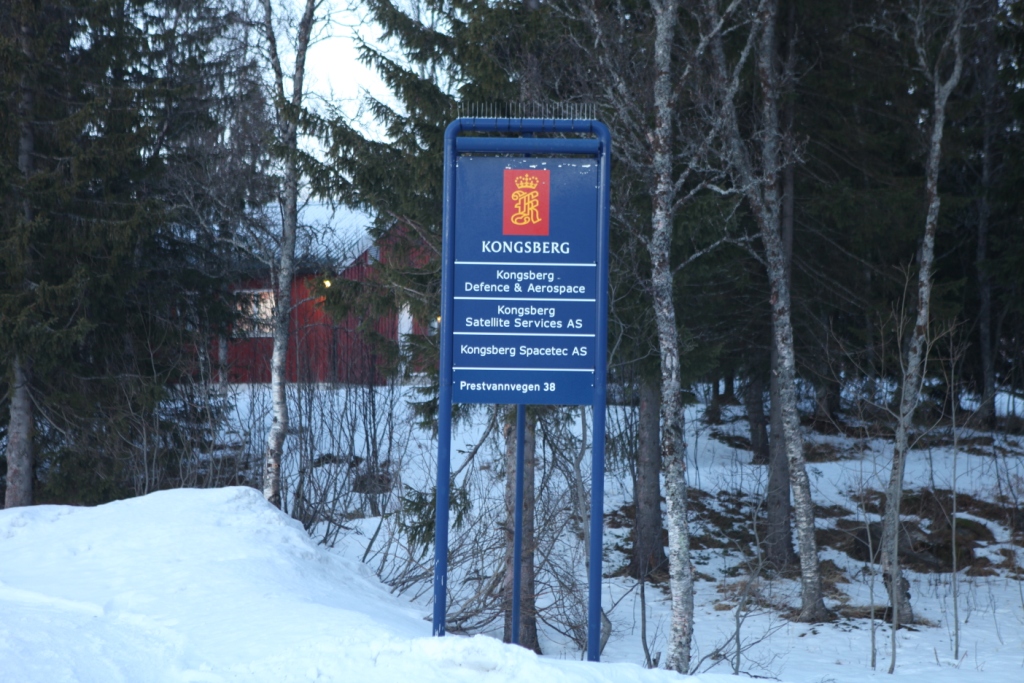 High demand for high-tech service
When it comes to which businesses stand to gain from climate change, the providers of satellite data have to rank high on the list. There is a huge demand for data from space, and KSat, it seems, is the biggest company worldwide carrying out this kind of activity.
While I was in town for the Arctic Frontiers conference, two colleagues and I were shown the facility on a beautiful wintry Saturday morning by Jan Petter Pedersen, the Vice President of the company, who is responsible for developing products to expand the business. He studied physics in Tromso and got into satellites during that time, he told us, going on to a PHD in remote sensing. Pedersen has been at KSat for 20 years and says the technology has come a long way in that time. These days, it's all about remote control via pcs.
We tend to take satellite data for granted. But if you think about it, somebody has to pick up the masses of data from all those satellites circling over the poles and pass the appropriate images to those who need them. Energy, environment, security – these are key areas which make use of the data. In the Tromso station, that data is provided to those who need it more or less in real-time. The company says it can get the data down and sent on to its destination anywhere in the world within 20 minutes. So if you want to detect an oil spill in – say – the Gulf of Mexico? – The chances are, you will get information from this Arctic town.
Some companies own and operate their own satellites, and distribute the data. KSat doesn't own any satellites, but has agreements to use data. They can access radio data from almost all satellites in operation today.
The USA and Canada are the biggest market for the company's services, says Pedersen. Then comes Europe, followed by Asia.
The world's largest polar ground station is the one on the Arctic island of Svalbard. I wasn't able to visit it during my winter trip – put it must be pretty impressive, with more than 30 antennae.
Satellite monitoring as deterrent to polluters?
When it comes to oil spill detection or monitoring, satellite images play a key role.
Optical sensors have limitations in bad weather, so radar satellite data are of key importance, Pedersen explains. Oil spill detection is the most important of KSat's earth observation activities. EMSO (European marine Safety Agency) in Lisbon is responsible for European oil spill detection. They get satellite data from 4 providers of satellite data, of which KSat is the biggest. It covers 60% of the waters from the Barents Sea to the Bay of Biscay and the Baltic.
In 2008 there were 10.77 possible reported spills per million km2. In 2011, this was down to 5.08, Pedersen told us. I asked why they talk of "possible". It seems it is not always possible to be 100 percent sure what the satellite detects is an oil spill. The reliability is somewhere over 60 percent. Pedersen believes the satellite service plays a role in decreasing the figure. As it becomes increasingly well known that satellites are observing and collecting the data, there is a higher awareness that oil spills are being detected. Presumably this is a deterrent to deliberate discharges of oil as well as a key source of information on accidents.
From pirates to icebergs
Another key use for satellite data is in monitoring ship traffic, including detecting, tracking and identifying vessels. This means the authorities can spot illegal activities and inform the coast guards. This helps in finding pirates, for instance.
Tracking icebergs and monitoring ice development have also been aided by the growing availability of satellite data. The NSIDC is one of KSat's most important customers. They need the data to map the extent and condition of the ice.
Ships frozen into the ice for research purposes such as the Lance, use satellite images via Tromso. Many other ships use them to chart a course when operating in ice.
Monitoring fishing activities, offshore oil exploration, tracking land movement – all these activities rely on satellite information today.
Pedersen told us the Norwegian capital Oslo is sinking at a rate of 2 cm a year.  He also mentioned a landslide risk area outside of Tromso, where a mountain is sliding into the ocean. Ultimately, it will go into the fjord and create a tsunami effect, says Pedersen. That would endanger the settlement. It is moving at 15mm per year. The satellites are keeping an electronic eye on it.
Norway, incidentally, is the country with the highest use of data per person. Most of it is maritime.  So it seems fitting that the country should be the location of some of the world's most important ground stations. There is more to the picturesque Arctic harbour town of Tromso than meets the eye – I can tell you that even without satellite data!
Date
February 13, 2015 | 2:15 pm
Tags
Arctic
,
Arctic Frontiers
,
Climate
,
ice
,
KSat
,
Norway
,
Oil
,
remote sensing
,
Satellite
,
Svalbard
,
Tromso