Biodiversity Day: The Arctic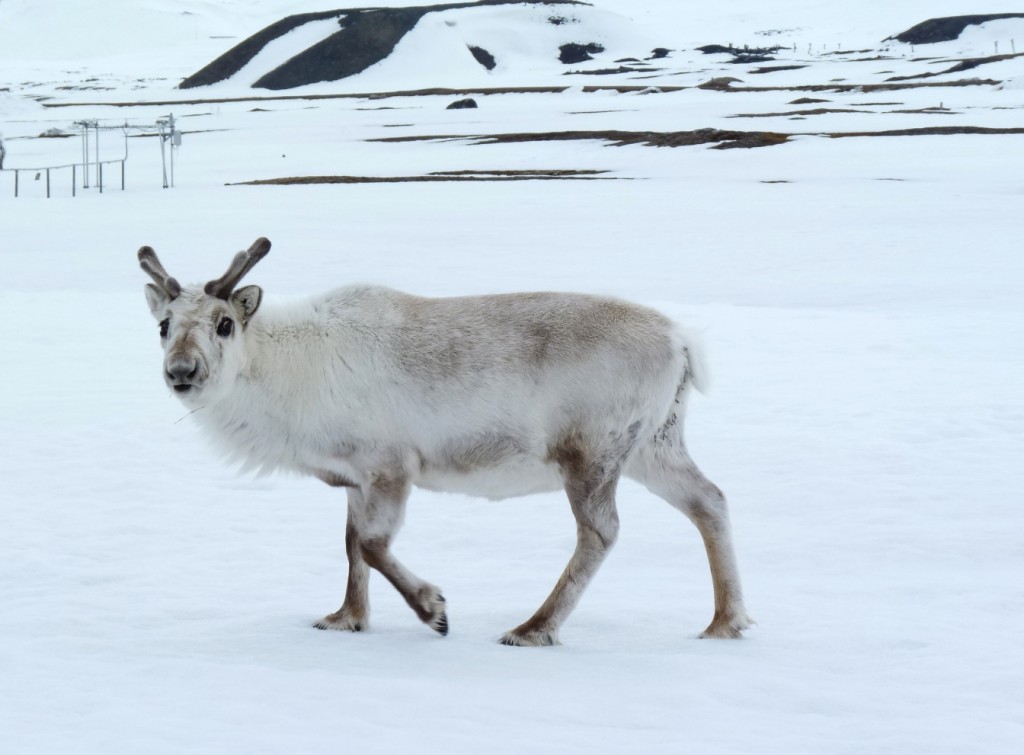 Svalbard reindeer, Ny Alesund
May 22 is the UN official "International Day for Biological Diversity (IDB)". Yes,  I know, I frequently wonder about the value of these "International Day of…" whatever, but usually come to the conclusion that it's always good to have reminders or pegs to draw attention to issues that don't always make the headlines (last time on Migratory Bird day, see Ice Blog post). May 22 was chosen because it was the day, in 1992, when the text of the Convention on Biological Diversity was adopted in Nairobi.
Anyway, at least in our northern hemisphere, May is a good time to talk about biodiversity, as nature bursts into life (or creeps out gently with the temperatures in my part of Europe currently a little on the chilly side) after the winter rest. Like so many things in our world, this is also affected by climate change, with increasing variability in temperature and conditions having an impact on the seasons.
This May also sees the publication of the "Arctic Biodiversity Assessment". It was released at the meeting of the Arctic Council in Kiruna on May 15th. Let me quote a little from the intro, which sums up why Arctic biodiversity is so special:
"The Arctic holds some of the most extreme habitats on Earth, with species and peoples that have adapted through biological and cultural evolution to its unique conditions. A homeland to some, and a harsh if not hostile environment to others, the Arctic is home to iconic animals such as polar bears Ursus maritimus, narwhals Monodon monoceros, caribou/reindeer Rangifer tarandus, muskoxen Ovibos moschatus, Arctic fox Alopex lagopus, ivory gull Pagophila eburnea and snowy owls Bubo scandiaca, as well as numerous microbes and invertebrates capable of living in extreme cold, and large intact landscapes and seascapes with little or no obvious sign of direct degradation from human activity. In addition to flora and fauna, the Arctic is known for the knowledge and ingenuity of Arctic peoples, who thanks to great adaptability have thrived amid ice, snow and winter darkness… The Arctic is made up of the world's smallest ocean surrounded by a relatively narrow fringe of island and continental tundra. Extreme seasonality and permafrost, together with an abundance of freshwater habitats ranging from shallow tundra ponds fed by small streams to large deep lakes and rivers, determine the hydrology, biodiversity and general features of the Arctic's terrestrial ecosystems. Seasonal and permanent sea ice are the defining features of the Arctic's marine ecosystems."
Biodiversity loss is happening at a frightening rate all over the globe, and the Arctic is no exception. On the contrary, with the climate there warming so much faster than the global average, Arctic biodiversity is under terrific pressure. As a contribution to halting the loss of biodiversity, the Arctic Council initiated the Arctic Biodiversity Assessment, consulting scientists on what could be done to alleviate pressures on Arctic biodiversity. The report gives an overview of  the stress factors putting Arctic biodiversity and suggests  possible actions to enhance biodiversity conservation.
The authors stress that there are substantial gaps in our knowledge of Arctic biodiversity. There is a huge need for continuing research.
Climate change is clearly a major problem. Melting ice, melting permafrost, warmer ocean – clearly such changes to some of the defining factors influence living conditions for flora and fauna too. With warming paradoxically making it easier to indulge in activities in the far north which could exacerbate climate change even further, the situation is complex and the time pressure huge.
Reports of this kind are usually very hard to read. I must commend the authors for the online presentation of this one. It's divided into readable chapters and has some spectacular pictures. Some were taken by Lars Holst Hansen at Zackenberg, Greenland. I met and interviewed Lars at Zackenberg Station in north-eastern Greenland in 2009. The radio feature I made at that time is still very relevant and describes work at the remote research station, which monitors a wide range of environmental parameters, including of course, lots of biodiversity.
LISTEN: Changing Arctic, Changing World: Greenland's Changing Climate.
I went counting musk oxen with Lars while I was at the station. One of his photos of the "big hairy beasties" is actually being used on a stamp incidentally. Congratulations Lars for the brilliant picture and for this contribution to spreading the word about the need to protect the fragile Arctic environment and its biodiversity.
Date
May 22, 2013 | 1:36 pm